Apple's
iOS
11
Officially
Arrives
With
a
New
App
Store
and
Much
More
Apple's Software
September 19, 2017
After more than three months in beta testing, iOS 11 is now available to download by the general public.
How to update
There are two different ways to update your iOS device. First, you can do it over-the-air directly on your iPhone or iPad. Head to Settings > General > Software Update and then follow the instructions. You can also do it directly from iTunes on a Mac or PC.
Just to note, make sure to backup your iOS device before upgrading. That can be done through iCloud, or more preferably through iTunes.
The update is compatible with the following iOS devices:
iPhone X, iPhone 8, iPhone 8 Plus, iPhone 7, iPhone 7 Plus, iPhone 6s, iPhone 6s Plus, iPhone 6, iPhone 6 Plus, iPhone SE, iPhone 5s
iPad Pro 12.9-inch (1st and 2nd generation), iPad Pro 10.5-inch, iPad Pro 9.7-inch, iPad Air 2, iPad Air, iPad 5th generation, iPad mini 4, iPad mini 3, iPad mini 2
iPod touch 6th generation
Here are some of the top new features.
A huge step up for iPad
Drag and Drop is a great addition to any iPad.
Anyone with a modern iPad should definitely be the most excited for the new software as Apple has truly taken an important, and needed step forward with iOS 11. The biggest addition in iOS 11 is drag and drop capability on a number of items including apps, documents, photos and text.
A long-requested addition, Apple has finally made it easy to handle files stored on the iPad and other locations. With the aptly-named Files app, you can organize, view, and structure files with folders, subfolders, and other options.
Another new feature with a very Mac-like touch is the new Dock. You can load the area up with a maximum of 13 apps, and they are always accessible at any time with a quick swipe up. A longer swipe up from the bottom of the screen will launch the new App Switcher.
Taking inspiration from both Launchpad and Mission Control on the Mac, it houses the new-look Control Center and the apps you've currently got open. You can view a small preview of what each app has open.
Slide Over and Split View are also getting supercharged. A second app can be opened directly from the Dock. The Slide Over app can also be placed on either the left or right-hand part of the screen. You can even quickly and easily swap out apps on the screen.
And anyone with an Apple Pencil should be happy to hear that the stylus is even more useful on the tablet with instant markup, inline drawing, and more.
Say hello to a new App Store
Say hello to a new App Store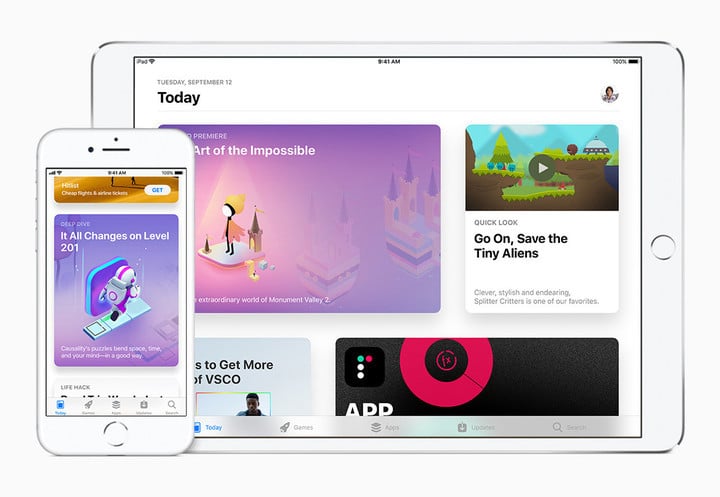 The App Store has been redesigned for the first time ever.
Easily one of the most popular destinations on any iOS device – the App Store – is sporting a radically redesigned look.
Opening the App Store app will now bring users to the Today page. The highly curated page will offer feature, interviews, videos, and more about games and apps.
Changing daily, the section will also feature new releases, exclusive app premieres.
Also featured in the App of the Day, Game of the Day, and The Daily List that highlights apps with a certain theme.
Overall, the page is well designed and looks great on the iPhone and iPad.
Probably the biggest changes are the next two tabs — Games and Apps.
It's no surprise that Games are receiving their own App Store section, the category is huge and keeps growing. The section features new games, top categories, curated collections of apps, app charts, and more.
The Apps tab is similar and spans the rest of the App Store. Interestingly, the charts on both pages only show apps that aren't currently on your iPhone or iPad. And the changes have also come to each individual app page. Information including customer ratings, chart position, and accolades like Editors' Choice will be much more prominent.
App developers will be able to highlight five app screenshots and three different videos of their title. That can also be localized for each country.
Individual app pages can now feature five screenshots and three different videos.
With the changes, Apple is also making in-app purchases easier to find. They will appear directly on an app page and when searching.
App Store editors can also select them to be featured in the Today, Games, and Apps section. When making an in-app purchase, users will automatically be taken to the app page or game to finish up.
The last two tabs in the App – Updates and Search – are also vastly improved.
Updates looks similar to the individual app pages and the rest of the app. But the bigger changes are thankfully arriving in the Search feature.
Anyone looking for apps can now see the content in Today, Games and Apps. Searching by app name, category, developer, or topic actually brings up relevant results. That's a noticeable and welcomed change.
Instead of "solving" the search problem, Apple seems to be content with turning the App Store into Apple Music for apps with a focus on discovery. Whether that's a good or bad thing for buyers, and more importantly developers, in the long-term will take to time to settle.
A better Control Center
The Control Center is revamped and now customizable.
Another handy part of iOS – Control Center – is also taking a big step forward with iOS 11.
Along with a new look, Control Center can be customized with whatever you use most often. Head to Settings > Control Center > Customize Controls.
You can then select what you'd like to include. Some of the choices include an Apple TV Remote, Notes, Stopwatch, Flashlight, Timer, and many more.
Most of the different options, also have a number
Take a look at all of the changes in action here.
Messages, Siri and More
Siri can now translate US English into Mandarin, French, German, Italian, or Spanish.
And that's far from all of what's new. Here are some other highlights of new iOS 11 features:
An iPhone can now sense when you're driving and activate a Do Not Disturb feature so you won't be disturbed by calls, texts, and notifications. Anyone who messages you will automatically be sent a message saying you're on the road. That can be customized in Settings > Do Not Disturb.
All of your iMessage apps are now also easier to access in the redesigned app drawer. Just swipe across to find what you want to use.
Siri sounds more human thanks to a big dose of machine learning and artificial intelligence. The virtual assistant can now also translate phrases from English into one of five different languages.
Apple Music users can create their own profile page with their popular playlists along with albums and stations they've recently listened to. You can also see the same information on friend's pages.
You can now turn Live Photos into a looping video or play it backward. The Long Exposure function captures both time and movement.