BodyLite:
Personal
Weight
Tracker
Helps
You
Stay
on
Target
This
easy
way
to
monitor
your
weight
will
keep
you
on
track
Connected Fitness
May 4, 2016
Whether you are trying to lose weight or need to gain a few pounds, BodyLite: Personal Weight Tracker is a simple app that can help. Set your target weight, track and monitor your pounds daily, and then see how it compares to BMI readings.
BodyLite: Personal Weight Tracker
Leading Brands JLT
Enter your weight daily
Each day, pop your weight into the main screen and you will see it compared to your target weight. There is also a nice view of the BMI readings to show where you fall. Navigational buttons are conveniently placed on the right side for quick access to your settings and weight report.
Adjust settings and notifications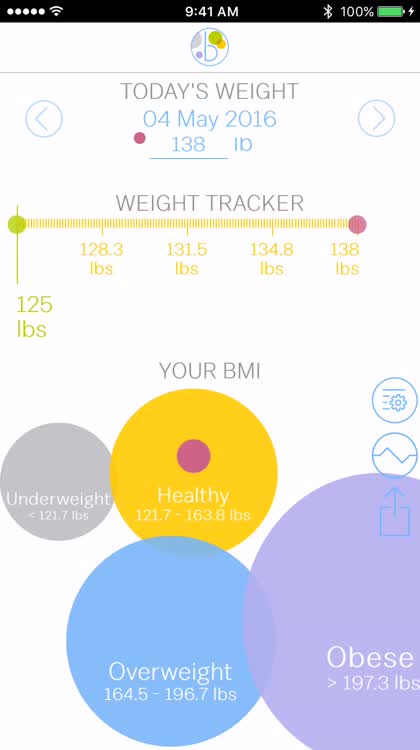 You can adjust the settings you entered originally with a tap. The settings also allow you to create a PIN to keep your data super private, sync with the Apple Health app, and enable reminders. You can select a time to be reminded to enter your weight each day.
View the weight report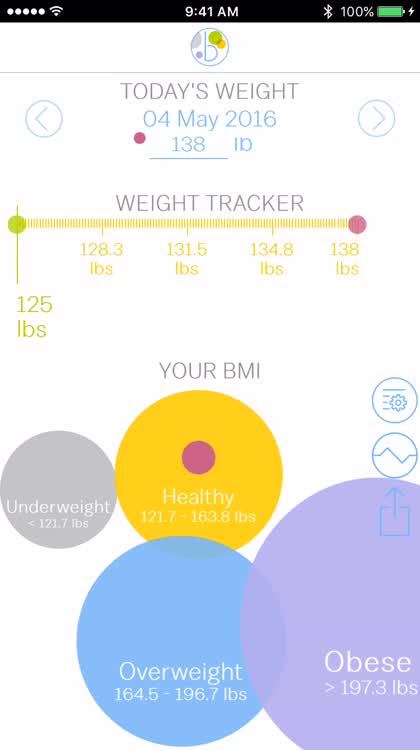 Your personal weight report provides a nice overview of where you stand and where you want to be. The graph shows a 7-day duration for a decent outlook at the big picture. If you are feeling terrific about your progress, you can also share your data via text, email, or even social media quickly and easily.
Get
BodyLite: Personal Weight Tracker
BodyLite: Personal Weight Tracker is a handy tool for monitoring your weight as you strive to reach your target. The interface is smooth and intuitive making it a convenient and uncomplicated way to stay on track with your weight goals. The app is available for just $0.99 on the App Store and is compatible with iPhone, iPad, and iPod touch.
$0.99
BodyLite: Personal Weight Tracker
Leading Brands JLT
in other news this week, see: