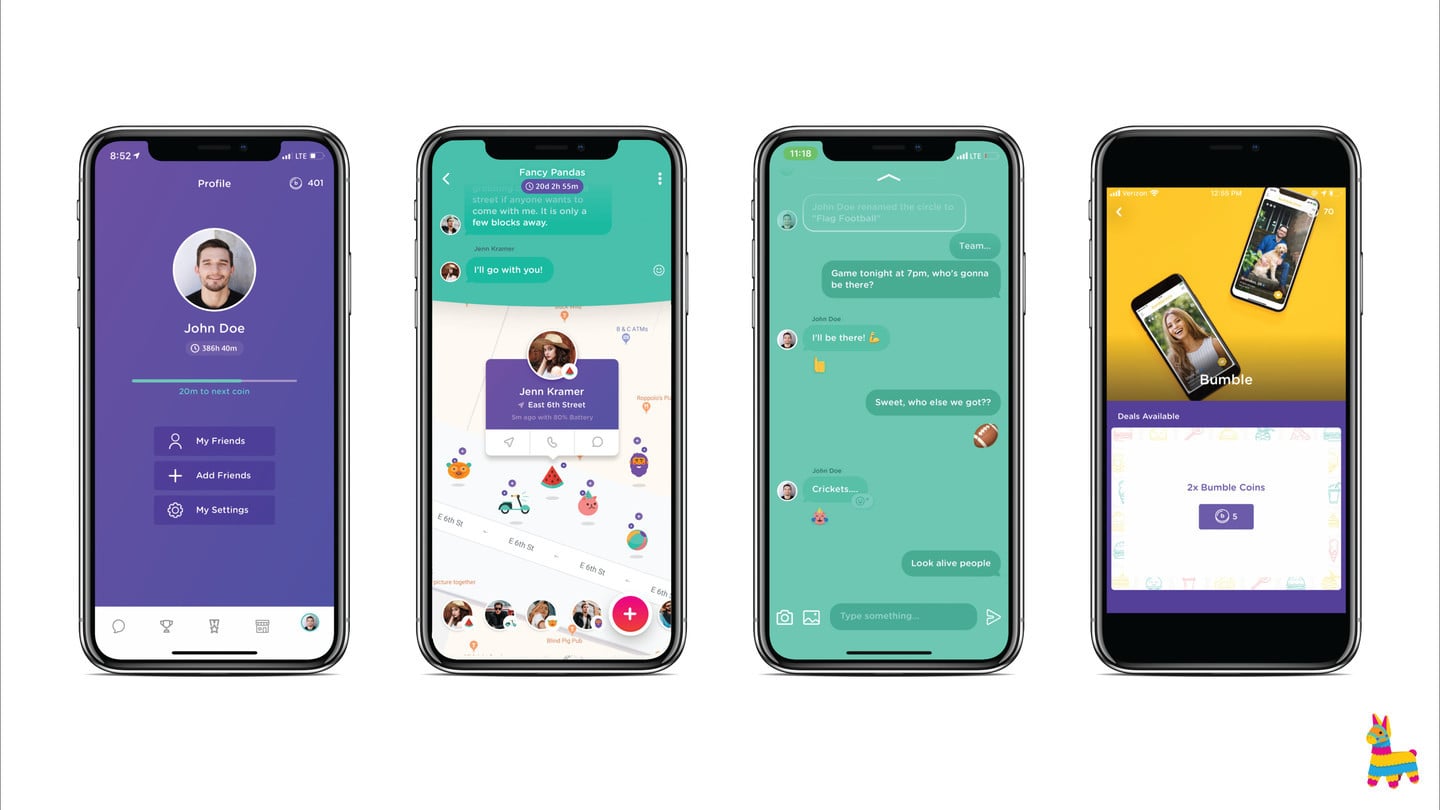 Bthere
is
a
Messaging
App
That
Encourages
Mingling
in
an
Ingenious
Way
October 28, 2019
Spending time with friends is its own reward. But you know what else is its own reward? Rewards.
Bthere is an innovative new messaging app that rewards its users with virtual coins for every minute they spend together in the real world, so that the pleasure of being in each other's company is overlaid with the pleasure of getting lovely stuff for free. Result!
Here's how it all works. Like other messaging apps on the market, bthere lets you create circles of your friends, colleagues, family members, and whoever else you want to put in them.
These circles are totally customizable in terms of privacy settings, so that you can have them exist for a limited time, restrict location data, edit permissions, and so on.
Through these circles you can plan events by dropping a pinata into the map, see where everybody is, notify your friends when you get home safely, send out an SOS if you get into trouble, and even view everybody's battery life.
And, of course, you can chat and send emojis and animated gifs. Bthere is a one stop shop for socializing and generally communicating online with the people in your life.
But bthere's ace card is its awesome reward feature. Recognizing that it's better for people to spend time together, developer Ben Johanson has built in concrete incentives for hanging out.
You don't even need to do anything. Your phone will automatically register when you're in the company of another user, giving you coins for every minute you spend in that state. Then you can take those coins and redeem them at the bthere shop for custom bthere gear and discounts at shops local to you.
There are leaderboards, too, with the most gregarious circles and individuals appearing highest on the daily, weekly, and all-time leaderboards and winning the regular giveaways.
So if you want a messaging app that rewards face-to-face interaction, you've just found it.
Download bthere for free right now on the App Store or Google Play.