Campfire
Cooking
is
One
Delectable
Treat
for
Puzzle
Lovers
Getting
these
campfire
meals
cooked
is
trickier
than
it
looks
October 20, 2017
Campfire Cooking ($3.99) by Layton Hawkes is a delectable puzzle game about cooking meals over a warm, toasty fire. If you love campfire meals but don't want to deal with the hassle of real-world camping, then Campfire Cooking is the perfect treat for you. It's similar to other games like Slayaway Camp, in the fact that it's like a Sokoban-style puzzle.
When I'm feeling a bit stressed, I like to unwind with either video games or food. Yes, I know — stress eating can be unhealthy. Fortunately, when I heard of Campfire Cooking, I knew that this was something I absolutely had to have, as it combines two of my favorite things into one! While I heard nothing about Campfire Cooking before this week, I must say that this is one of the best games I've purchased as of late. It satisfies both my sweet tooth and craving for puzzle games.
App Feels Like
$1.99
Slayaway Camp
Blue Wizard Digital LP
Visually, Campfire Cooking is stunning and beautiful. The game has a kind of cartoonish aesthetic with the characters and food, but it's done gracefully so it's not over-the-top. The food looks simple yet appetizing, and the campfires have a soothing look and feel to them that mimics the real thing nicely. There's several different environments to set up camp in, and they all have a believable appearance. The vignette around the screen edges is a nice touch, as it puts the focus on the puzzles.
All animations are smooth and fluid, with no lag on my iPhone 8 Plus. The game features an upbeat and quirky soundtrack with realistic sound effects as food cooks over the fire. Overall, the developer did an excellent job with Campfire Cooking's visual and audio design.
Like other puzzle games, Campfire Cooking is level-based. At the moment, there are eight different trails (chapters) for players to explore, and each one contains about 10 puzzles for you to solve. The nice thing, though, is the fact that you can play the stages in any order, so if you're stuck, you can just try a different level. However, you do need to solve a certain amount before the next trail gets unlocked.
The nicest thing about Campfire Cooking is that even though it's a puzzle game, there's still some rather endearing characters and story to everything. In Campfire Cooking, you'll meet a grandpa who takes his grandkids out camping for vacation. There's plenty of stories to share with everyone, along with many jokes and moaning about cell phone reception. These scenes take place between puzzles and are sure to bring a smile to your face.
Controls in Campfire Cooking are simple. In each puzzle, there are metal and wooden skewers of marshmallows that you can twist and rotate on the board. The goal is to get everything evenly cooked on the flames. To make a skewer move, just slide it in the direction you want — they spin as they slide over. It can't move if there's no space to fit the marshmallows, and it can't cross over other skewers. To rotate a skewer (wooden sticks only, no metal), just drag over it until you see curved arrows, and then move your finger until the arrow is filled. If the space allows for it, that wooden stick will rotate.
Eventually, there are other camp meals that you'll have to cook, including various soups in pots. The pots can't move on their own — you need to push them around with skewers, and even magnets are introduced later. The pots just need to go into the flame once to be prepared, but marshmallows must be toasted on both sides and not burnt. However, some levels start off with burned marshmallows, and you must use these to set the fire on the board in order to prepare the non-burned food. Some puzzles are a piece of cake, while others are definitely not a walk in the park.
Start up the campfire, and get ready to think about roasting marshmallows.
The Good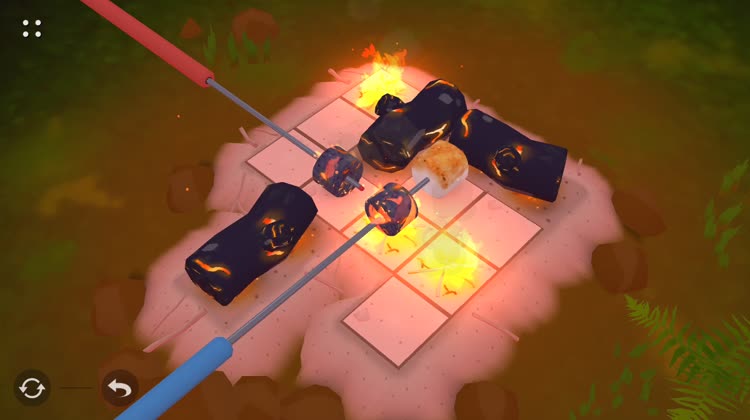 Campfire Cooking is a genius and fresh new take on puzzle games. The visual style is unique and rather realistic for a cartoonish aesthetic, and the music is delightful to listen to. Plus, who can resist the sound of a marshmallow toasting up over an open fire? The game concept is simple enough, but the puzzles can get tricky, making you truly use your head. The family-friendly characters are relatable as well, making this a fantastic puzzle game for anyone.
The Bad
Honestly, Campfire Cooking is an excellent game. However, if you're the kind of person who doesn't enjoy puzzles that make you use your head, then you may get frustrated with this one. Still, I think it's best to give this one a shot, because you may change your mind.
The verdict
Overall, Campfire Cooking is one of the best puzzle games you can get for your iOS device. The game looks gorgeous, and the sound mimics the camping experience. The controls are easy to learn and optimized for touch screens, so there's no issues there. The puzzles have a nice complexity to them, ranging from easy to tricky, but once you figure out a puzzle you've been stuck on, it's incredibly satisfying. Having the option to play levels in any order you want is also a nice perk.
I highly recommend Campfire Cooking if you're a puzzle fan. You can find Campfire Cooking on the App Store as a universal download for your iPhone and iPad for just $3.99. There are no in-app purchases.
$3.99
Campfire Cooking
Layton Hawkes