Can
you
beat
the
Professor
in
Logic
Puzzles
Daily?
Pocket Gaming
March 23, 2016
Created by a man who has been completing these grid-based logic puzzles for decades, the Logic Professor challenges you to work your way through level after level of his brain-teasers. Can you beat his time for each logic puzzle and win bragging rights, or will you be the recipient of another of his intellectual wisecracks? Test your wits in Logic Puzzles Daily, and see how good your deductive reasoning skills are.
Logic Puzzles Daily - Solve Logic Grid Problems and Be a Puzzler Egghead
Twin Wizards Ltd
The true challenge of your deductive reasoning
Read the story and clues
Just like pencil-and-paper logic puzzles, there is a story and clues
Read the story and clues very carefully, because these are key to solving the logic puzzle. Each clue will help guide your deductive reasoning to coming up with the correct answers. This puzzle is an easy one; they get much more interesting and challenging.
Watch ads for hints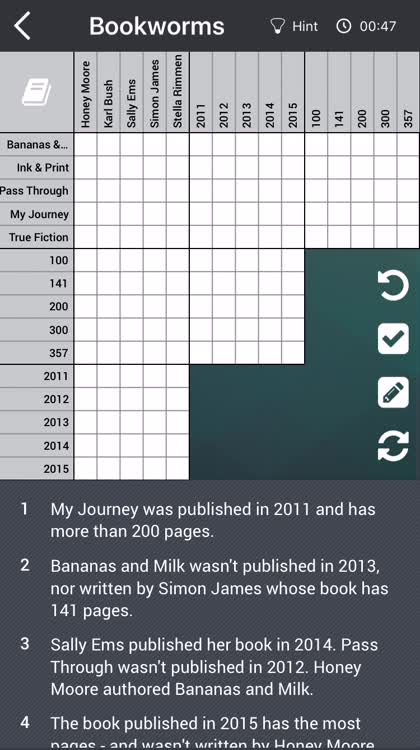 If you get stuck, watch a video to get a hint
Logic Puzzles Daily is free, but it does include video advertisements. These show up primarily when you get stuck and ask for a hint. The Logic Professor doesn't just give his insights away; you have to watch an ad to get a leg up on the competition in the puzzle.
Check errors and take notes
Use the error-checking and Notes section wisely
For the more difficult puzzles, it's important to take notes to help you remember key facts and deductions. You should also make regular use of the "Check for errors" pencil icon, since it can help you ensure you're on the right track with your deductive reasoning to solve the puzzle.
Logic Puzzles Daily is designed for iPhone, iPad, and iPod touch, and requires iOS 9.1 or later. You can download the game for free on the App Store, but it does include ads and in-app purchases.
Get
Logic Puzzles Daily - Solve Logic Grid Problems and Be a Puzzler Egghead