Get
all
your
contacts
together
using
1Sync
Digital Communicator
March 28, 2016
The 1Sync app is a one-stop shop for transferring your contacts from Google, iCloud, Hotmail, or just about any other service to a different one. You can quickly and easily import all of your Google contacts into iCloud, for example, or get your Facebook friends into your Outlook address book. The app fully supports two-way synchronization as well as one-way, allowing you to tailor how your contacts get migrated.
1Sync: contacts sync for Gmail, iCloud, Hotmail, Yahoo Mail, Outlook email with auto synchronization
Kraftwerk 9 Inc
Synchronize Google and iCloud
Easily synchronize your Google or Facebook contacts with iCloud
This app allows you to quickly and easily synchronize your Google or Facebook contacts with iCloud. The app features simple setup, and can even send you reminders to periodically refresh your synchronization. The free version allows you to carry over up to 30 contacts between services.
Multiple accounts are a breeze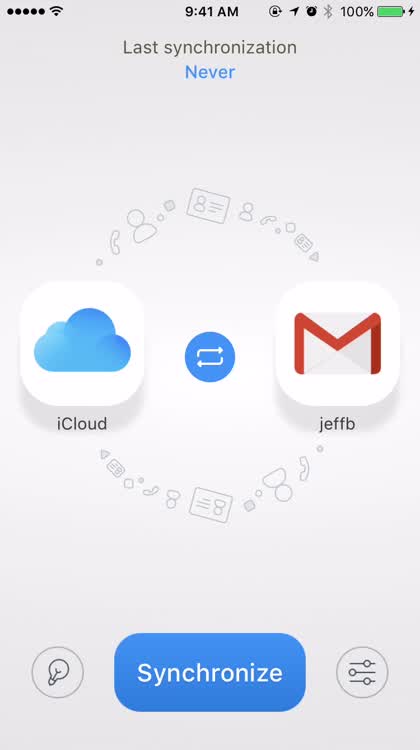 Change which accounts you synchronize with just a swipe
With 1Sync, you get support for multiple accounts, so you just have to swipe the icon towards the center to change. You can synchronize between Google, Facebook, and iCloud. With the Pro version or an in-app purchase just for the auto-update feature, you can even schedule 1Sync to automatically refresh your synchronization every 24 hours.
Customizable synchronization
Choose one-way or two-way synchronization
If all you want to do is bring your contacts over from one service to the other, 1Sync has your back. You can choose a full two-way synchronization, or select either direction - Google to iCloud or vice versa.
1Sync is available for free on the App Store, and is designed for iPhones, iPads, and iPod touch devices running iOS 9 or later. It does not use advertisements, but is limited until you unlock more features through in-app purchases.
Get
1Sync: contacts sync for Gmail, iCloud, Hotmail, Yahoo Mail, Outlook email with auto synchronization