Get
bargain
protection
for
your
9.7-inch
iPad
Pro
from
MoKo
Moko's
case
offers
similar
protection
to
Apple's
without
the
hefty
price
tag
Accessories
April 18, 2016
I recently tested Apple's Smart Cover and Silicone Case for my new 9.7-inch iPad Pro and loved it — but not the hefty price tag. So when I found MoKo's iPad Pro 9.7-inch Case for a tiny fraction of the price, I had to check it out.
Rather than two pieces, MoKo's case is a single unit. The Smart Cover-type front activates the iPad's Sleep/Wake feature. It also folds back behind the case to offer two viewing angles, higher for viewing and lower for typing. The back part covers the iPad entirely, with a lip that is slightly larger than the screen to protect it in face-down situations. All buttons and ports and the camera have precision cut-outs for full use.
This case appears to be just as functional and protective as Apple's, although the materials bear little resemblance.
The facts
Product
9.7-inch iPad Pro Case
Compatibility
9.7-inch iPad Pro
What I liked
MoKo's case is slim and lightweight, adding minimal bulk to the iPad Pro. It snaps on easily and fits perfectly. The front cover works exactly how you'd expect, activating the Sleep/Wake function and folding behind the iPad to create a sturdy two-angle stand.
The front and back are connected, so you don't have to worry about dropping the iPad and having it fall to the ground if you only manage to grab the front part of the case. The interior of the case is lined with microfiber material, so it shouldn't scratch the iPad at all. The case feels very sturdy like it will stand the test of time.
I picked a floral design, which won't be everyone's cup of tea, but there are a variety of colors and patterns from which to choose. Prices vary slightly between colors, but even the most expensive one costs just about 10% of the price you'll pay for Apple's equivalent cases.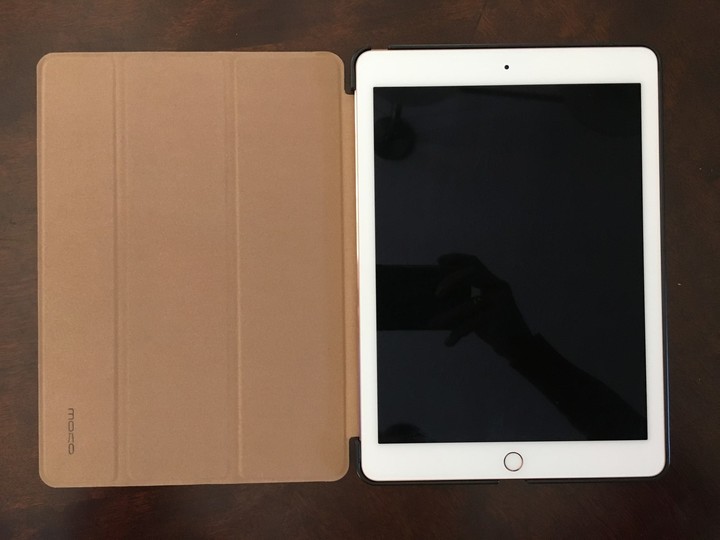 What I didn't like
I have only one complaint about MoKo's case. After trying out Apple's buttery soft cases, MoKo's feels coarse and cheap in comparison. If I had never touched the Apple option, I might have felt different. But the MoKo case seems to be made primarily out of vinyl, plus hard plastic around the edges. While it feels quite sturdy, it doesn't feel luxurious.
Bottom line
If you're looking for a practical, inexpensive case for your 9.7-inch iPad Pro, I highly recommend MoKo's case. While I didn't love the feel of it, the case does look good, with a variety of color options to please every eye.  You can purchase MoKo's 9.7-inch iPad Pro Case for $7.99 to $10.99 on Amazon.