Google
Releases
Gboard,
a
Fancy
New
Keyboard
for
iOS
GIFs,
glide
typing,
and
search
are
rolled
into
one
keyboard
Getting Stuff Done
May 12, 2016
Google is jumping on the iOS keyboard train with its release of Gboard today, May 12. The new app works just like a regular keyboard but also provides built-in Google search, GIF options, email scheduling, glide typing, and more.
Gboard — Search. GIFs. Emojis & more. Right from your keyboard.
Google, Inc.
In-app Google search
Tap the Google icon to search directly within the keyboard app. This eliminates app switching to find news, weather, scores, or locations. You will see your search results along the bottom and can add your pick to your message.
Track or schedule emails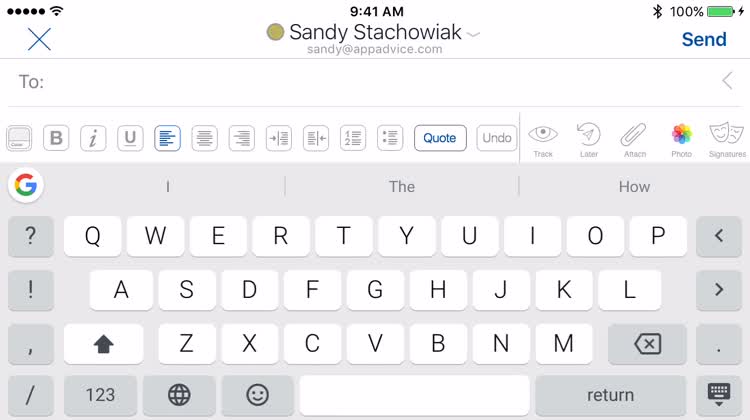 If you would like to send your email with a read receipt, just tap the Track button. Or, if you would like to your message to be sent at a later date or time, the Schedule feature works well. You can also attach files or photos and include a signature.
Glide typing and suggestions
Just like Swype or SwiftKey, Gboard offers glide typing. Simply swipe through the letters to create words quickly. You will also notice word suggestions that can be popped right in as well. Both of these features allows for faster and convenient typing.
Emojis and GIFs
You have a full set of emojis to choose from and can also search for a specific one if you like. For adding some fun to your email or text, check out the selection of GIFs. There are tons of categories for the GIFs along the bottom or you can do a search. Tap one to activate the copy function and then just paste it into the message.
Get
Gboard — Search. GIFs. Emojis & more. Right from your keyboard.
If you have privacy concerns, here is what is and is not shared with Google per the App Store:
What Gboard sends to Google:
• When you do a search, Gboard sends your query to Google's web servers so Google can process your query and send you search results.
• Gboard also sends anonymous statistics to Google to help us diagnose problems when the app crashes and to let us know which features are used most often.
What Gboard doesn't send to Google:
• Everything else. Gboard will remember words you type to help you with spelling or to predict searches you might be interested in, but this data is stored only on your device. This data is not accessible by Google or by any apps other than Gboard.
- Gboard on the App Store
Gboard is a pretty slick keyboard app. The glide typing appears to work well, the GIFs are simple enough to use, and the built-in Google search is a nice feature. The keyboard works in both portrait and landscape views, is designed for iPhone and iPad, and is available for free on the App Store without ads.
check out gboard and see what you think
Free
Gboard — Search. GIFs. Emojis & more. Right from your keyboard.
Google, Inc.
for additional new stories, take a look at: