Incipio
Esquire
Series
iPhone
7
Cases
Look
Professional
The
Esquire
Series
iPhone
cases
from
Incipio
are
elegant
and
appropriate
for
even
the
most
formal
office
environment
Incipio Esquire Series
Accessories
December 2, 2016
I enjoy a fun, whimsical, artsy, and flat-out pretty case for my iPhone, but at times, life calls for a more adult look for the device most often on your person. The Esquire Series iPhone 7 cases from Incipio give your iPhone a professional look, suitable for any kind of formal office setting. The case itself reminds me of a suit; the textured case closely resembles wool suiting fabric.
This is a hands-on review of the Carnaby Case from the Esquire Series; I also had the opportunity to take a close look at the Wallet Case from the same series. They are quite similar, only the Wallet Case flips open to allow insertion of one or two credit cards for secure storage.
The Facts
Product
Carnaby Case Esquire Series
Compatibility
iPhone 6 up to current models
Colors
Black, Gray, Khaki
What I Liked
This is an unusual case. The frame is a pretty standard TPU, but the back is crafted from a "durable textile material" that looks to me like my husband's wool suits. It has a distinctive texture, it feels like something between wool and plastic. While it's difficult to explain, it's aesthetically pleasing, quite pleasant to touch.
The case itself is very protective. It does add some bulk to the iPhone, but not unnecessarily so. There is a lip that comes up over the screen to protect it in case of face-down placement. You'll notice a precision cut-out for the camera, the lightning port, the mute switch, and the speakers. Button covers protect the sleep/wake and volume buttons while maintaining full functionality.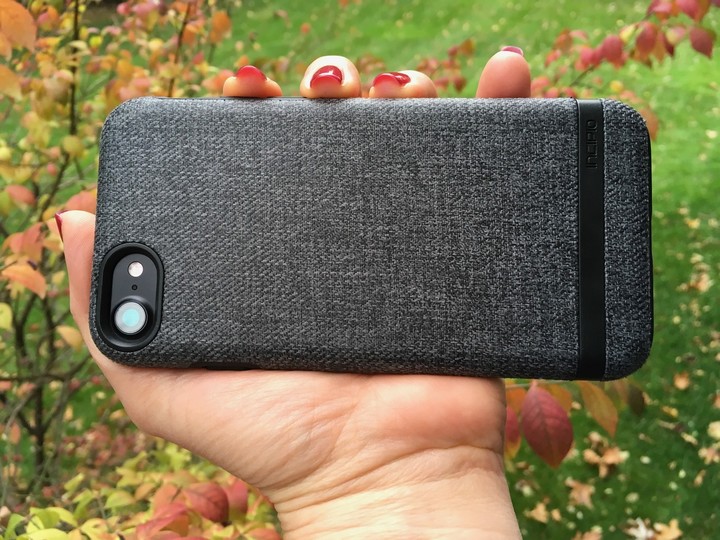 What I Didn't Like
The Esquire Series may not be to everyone's personal taste. It's meant to go with your clothing, and if your clothing doesn't consist of suits, then this case may not be your ideal. Since my clothing tends to run towards softer, more feminine fabrics and styles, consequently this is unlikely to be my daily iPhone case.