Lucrin's
Leather
Wallet
Case
is
the
Luxury
Your
iPhone
Deserves
If
you're
looking
for
something
beyond
the
ordinary,
this
case
from
Lucrin
is
worth
a
look
Accessories
November 14, 2016
While there is a huge market for bargain iPhone cases, not everyone wants to cover up their iPhone with the cheapest possible case that does the job. If you're looking for a case that will protect your iPhone in opulent style, check out the rainbow of offerings from Lucrin.
Lucrin carries several different styles to cover every iPhone model from the iPhone 5 up to the iPhone 7 and iPhone 7 Plus. They sent me the Leather iPhone 7 Wallet Case for review, and it is beautiful.
The Leather iPhone 7 Wallet Case is a portfolio-style case with a magnetic flap to hold it closed. The phone itself sits in a protective plastic shell. There are three credit card slots and a large pocket to hold cash or other slips of paper.
The Wallet Case comes in 27 different colors and five different types of leather. You can order it with matching or contrasting thread, and you have the option to personalize your case with engraved lettering. I chose the purple smooth leather with matching thread and my initials engraved on the front.
The Facts
Product
Leather iPhone 7 Wallet Case
Compatibility
All models from iPhone 6 to current
Colors
27 different shades
What I Liked
The sumptuous leather is a pleasure to behold. It looks and feels lovely. Though the phone itself is encased in plastic for protection, it doesn't take away from the overall aesthetic. The plastic is thin enough that it doesn't add much bulk, but it still has a lip that comes up over the edge of the screen for face-down drop protection. There are cutouts in the plastic at the top and bottom of the iPhone, so the speakers and charging port are unhindered. Generous cut-outs on both sides keep the buttons and switches clear.
The back of the case has a precision cut-out for the camera and flash, so those are fully functional with the iPhone in this case. The wallet portion comfortably fits three credit cards and a little bit of cash.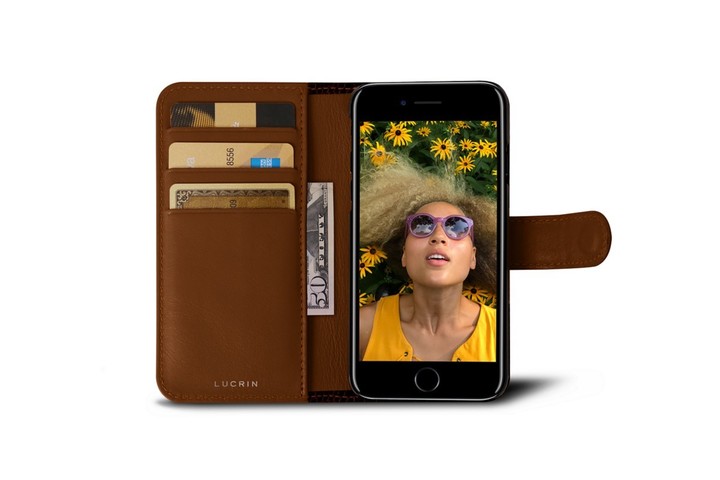 What I Didn't Like
I felt that the magnet that holds the portfolio together could be just a bit stronger. While it doesn't come open on its own, it doesn't automatically snap shut when you fold the portfolio closed.
Whether you like a portfolio-style case or not is a personal thing. It can be somewhat awkward for two-thumbed texting. Also, I don't love the look or feel of the magnetic flap sticking out when the case is open. Unlike some portfolio cases, this one does not double as a video viewing stand.
The biggest drawback, of course, is the price. While it starts at $128.00, the price goes up from there if you want personalization or fancier leather such as ostrich.
Bottom Line
This is no ordinary iPhone case. If you want to protect your iPhone in elegant style, you may want to consider spending the money for a case from Lucrin. It would make a memorable gift for a special someone in your life. You can purchase this case and other styles and sizes from Lucrin's website. The Leather iPhone 7 Wallet Case comes in 27 colors, five types of leather, optional engraving, and starts at $128.
Looking For Something Different?