Memeois
Curates
Your
Feed
of
Memes
Using
Machine
Learning
August 7, 2017
Memes are fun to explore and discover, but sometimes just don't seem to apply to any part of our lives. An app has recently been unleashed on the meme world that uses Machine Learning to pick up on what you love and hate, and then create a custom curated list of memes that you'll probably want to share with everyone around you.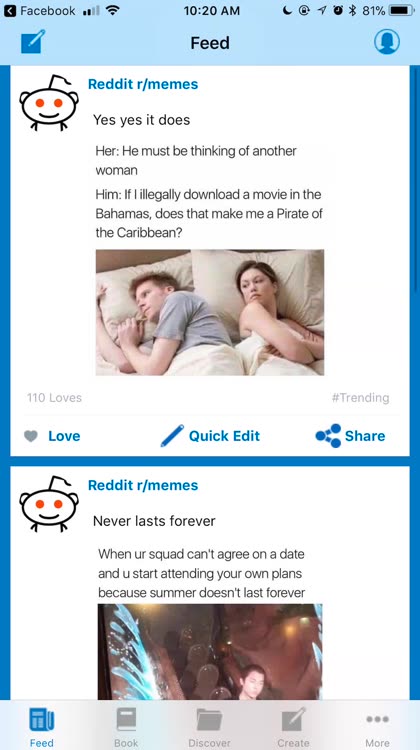 Memois was created by a 17-year-old student with a passion for solving problems by learning new things. Frustrated by the hatred, politics, and stress on social media, this Georgia Tech student and WWDC 2016 and 2017 Scholar set out to built an app that makes it easy and quick to make memes, share them with friends, and find new ones relevant to the user.
The result was Memeois, an app with an endless feed of memes curated through Machine Learning. Using Amazon Rekognition, Memeois indexes memes for a searchable repository. As you browse and Love memes, the feed becomes more personalized and offers suggestions based on your preferences.
If you don't know anybody using Memois yet, never fear. The Reddit sub /r/memes is automatically in your feed, so you can start discovering the newest memes right away. Of course, as more people learn about Memois and start using it, you'll be able to enjoy an even more hilarious and customized feed of funny memes.
The meme app that uses Machine Learning to customize your feed
No meme app would be complete without a way to make your own, and Memois has that. You can create a fully custom meme, if you want. Use a photograph from your Photo Library, add your own text, and then give it a caption. Once you're done, you can categorize your meme, save it to your Book, and then share it with others through Messages, email, Facebook, Twitter, and other choices.
If you don't have your own photo you want to use for your meme, Memois has you covered. All of the most popular meme images are available, so you can create your own flavor of Boromir's "one does not simply" meme, Picard's facepalm, or the "nailed it" toddler. There are plenty more to choose from, of course. The overly attached girlfriend is there, Willy Wonka makes his appearance, and that is just the beginning.
Again, you choose your image, add your text, and then categorize your meme. Once that's done, you can save it to your Meme Book and share it.
If you're looking for a fresh new way to discover memes, this is definitely it. In just a few short days of using Memois and Loving memes, I'm already starting to see a trend of the feed having more of what I like and less of what I just say "Meh" to.
Discover popular memes
Browsing through the Discover tab is another great wait to find meme inspiration
Create your own meme
Once you're ready and have your idea, it's time to create your own meme. Maybe it'll go viral.
Get inspiration from the feed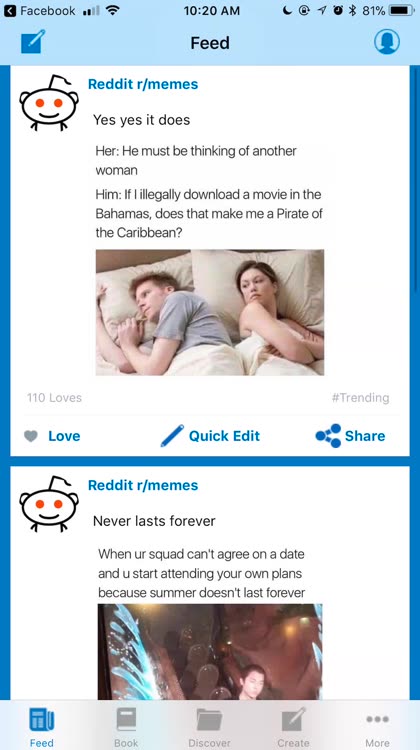 You'll find plenty of memes in the feed, even if you don't have any friends on Memois yet. The meme subreddit from Reddit is there by default.
FREE
memeois
Memeois, Inc.