Mercury
Weather
is
a
Beautiful
and
Easy
Way
to
Keep
Track
of
Mother
Nature
September 13, 2022
You don't need to look far to find a weather app for your iPhone. There are hundreds of third-party choices available, and Apple continues to make great improvements with the stock option available on iOS 16.
But if you're looking for something simple to use and beautiful, definitely try out the new app Mercury Weather.
Instead of tons of bells and whistles, the app singular's focus is to provide a look at the weather in a specific location. And it does it very well.
Once you set a home location, you'll see the shift in temperature and weather in the next 48 hours and the expected minute-by-minute rain in the upcoming 60 minutes.
Below that is a daily forecast for today and the next seven days. Select a date to see more information like the forecasted rainfall, humidity, and wind along with the sunrise and sunset times.
Another great feature is Smart Travel. Whenever you travel away from the set Home location, the destination is automatically added into your saved cities when returning home. That will make it easy to keep track of the weather at both locations.
And there's no need to even open the app to see weather information. Anyone with iOS 16 can add lock screen widgets from the app. There are also home screen widgets to use.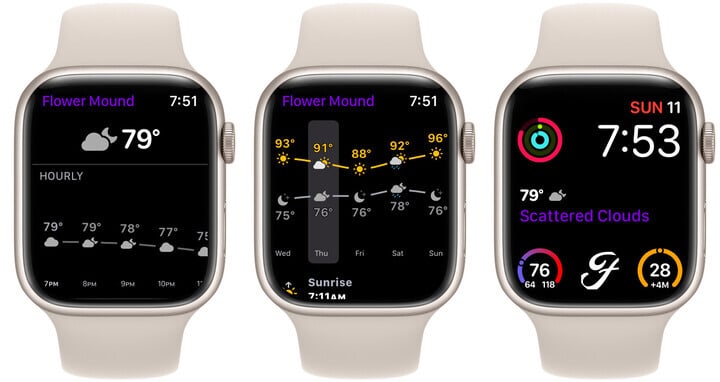 The app is also available on the Apple Watch. Even on the small screen, the app does a great job of giving you idea of current and forecasted weather information at a glance. You can also use complications from the app to add to a watch face.
Mercury Weather is a free download on the App Store now.
You'll need a subscription to make use of the lock screen widgets on iOS 16 and the Apple Watch app. A subscription s $1.99 per month, $9.99 yearly, or $34.99 for the lifetime of the app.
I've been using the app for a few days, and have been impressed. It's very easy to use and looks great on my large iPhone screen. The Apple Watch complications are also great.
Free
Mercury Weather°
Triple Glazed Studios Inc.