Oak
Meditation
Will
Guide
You
to
More
Mindful,
Relaxed
Living
November 1, 2017
While there is no shortage of meditation titles on the App Store, it can be difficult to find ones that make full use of the capabilities of the iPhone. There are a couple that include Apple Health integration, but those are primarily paid subscriptions. With Oak, you get all of the features you're looking for in a meditation app, along with Mindful Minutes integration.
When you first begin using Oak for your meditation, you'll be in "guided" mode. The app signifies this with "Mindful" in the discipline field when you first begin the meditation exercises.
In Mindful mode, you are instructed how to relax and clear your mind, and then enter a state of relaxation where you become more mindful.
As you begin your meditation, Oak reminds you to silence or shut off notifications. The app provides a clean, uncluttered presentation to meditate with. You can control the overall volume of the app with a tap. You are also able to adjust the volume of the speaker and the background noises.
Eventually, you could reach a point where you no longer want or need the vocal instructions. When that happens, all you have to do is tap on Mindful, and then choose Unguided from the menu that appears.
If you want to keep the voice instructions all the time, you can do that, too. Oak does not limit how often or how much you can use the verbal directions.
The app that teaches you to be more relaxed and mindful
One of the nicest things about Oak is its optional integration with Apple Health. You're given full control over whether or not you allow this integration; Oak doesn't even take you directly to the settings to link up your Apple Health data. Instead, the app tells you how to turn it on, and then leaves it to you to enable Apple Health integration.
The benefit to this integration is tracking your meditation within Apple Health. Since Apple Health has a section for Mindful Minutes, Oak is an excellent way to meet your goals for being more calm, relaxed, and mindful.
That's not all the app offers, though. Oak also allows you to go through breathing exercises, learning to take deep, calming breaths and then let them out. Finally, a Wisdom tab provides you with access to a number of videos on relaxing, meditation, and more.
Guided meditation exercises
Oak offers guided meditation exercises to help you learn to relax and be more mindful.
Calming your breathing
Part of meditation is deep, relaxed breathing, and Oak offers lessons to help you achieve that.
Integrate with Apple Health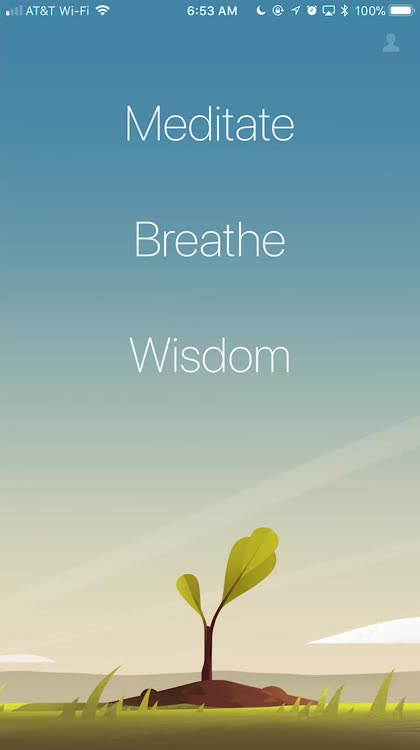 Apple Health has a section for mindful minutes, such as meditation, and Oak can integrate with that.
FREE
Oak - Meditation & Breathing
Courtney Circle