Recharge
your
Apple
Watch
and
more
with
Oittm's
charging
station
Three
USB
ports
make
this
more
than
just
a
watch
charger
Accessories
April 20, 2016
Oittm's Apple Watch charging station ticks a lot of boxes. It offers cord management for the long Apple Watch charging cable. It orients your watch sideways so you can use Nightstand Mode. It has three USB ports so you can charge up to three extra devices of your choice. It even acts as a nightlight, emanating a soft blue glow. Is this the right charging station for you? Let's find out.
The Facts
Product
Apple Watch Charging Station
Compatibility
Apple Watch plus any USB devices
What I liked
I like that it manages Apple's overly long charging cord for the Apple Watch. The cord coils up neatly inside the station and plugs into a hidden USB port, while the watch connector snaps into a plastic holder for a tidy look. The plastic holder can also be removed and replaced with the included piece of solid plastic if you choose not to use this charging station for the Apple Watch at all. The entire station is plastic, but it feels solid.
Every Apple Watch owner owns at least one other device that needs to be charged with a USB cord, and I'd venture to guess that most of us own quite a few. The three USB ports on the front of the charging station allow you to charge up to three more devices. They don't even have to be Apple devices, just any sort of device that plugs into a USB port. I like that you can charge four items from this single hub.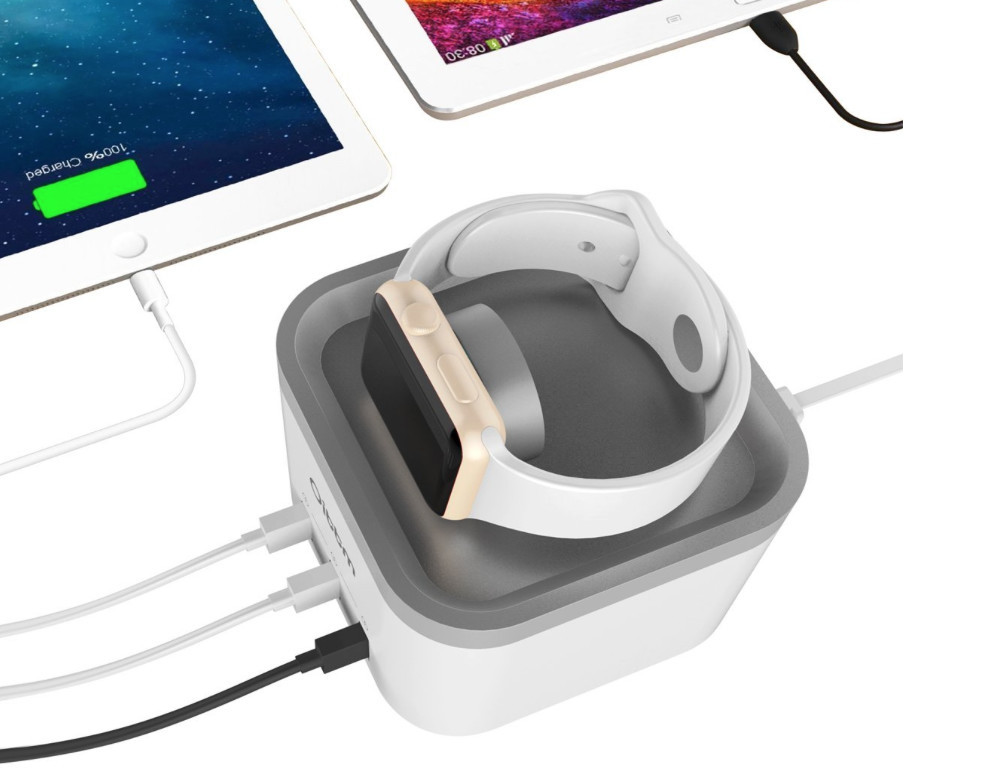 What I didn't like
This product is not the most glamorous-looking charging station I have seen. It also makes for a tangled mess because of its design. The Apple Watch charging cord is managed efficiently. Unfortunately, the USB cables plugged into the front aren't managed at all. This mean, you get an Apple Watch perched cleanly on top of the hub while a tangle of cables sits in the front.
Many people might find the blue light radiating gently from the charging station to be a good thing. Personally, I need complete darkness to sleep, so it is not good for me. You won't find this feature mentioned in the product description, but I thought you should be made aware of it.
Bottom Line