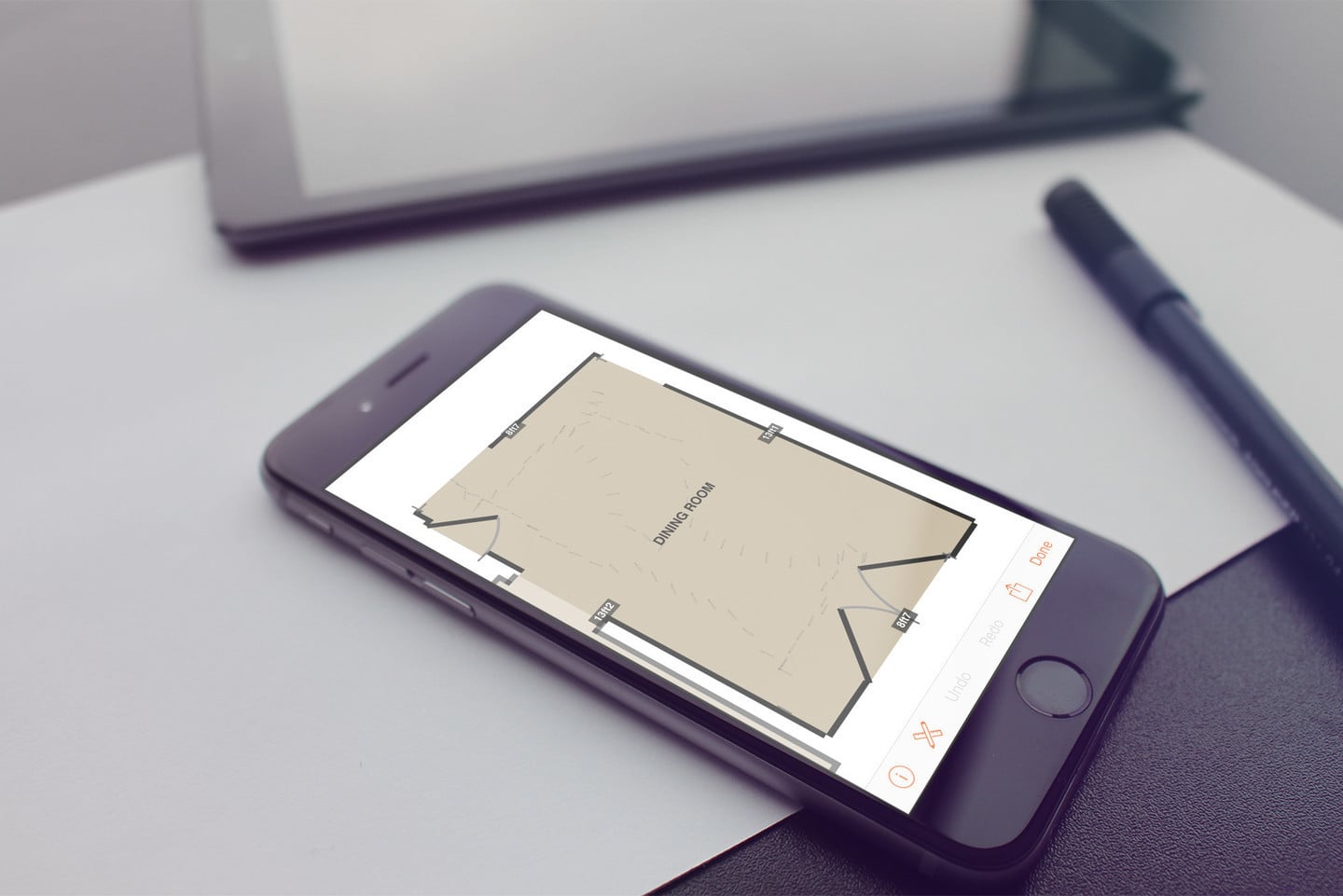 RoomScan
Pro
Helps
Generate
Terrific
Floor
Plans
September 27, 2017
The old, tried and true way of generating a floor plan for your home or business is time-consuming. You have to manually take precise measurements, and then either draw them by hand or input them into your CAD software. With the help of RoomScan Pro (and ARKit), you don't have to go to those lengths anymore. All you need is your iPhone and this easy-to-use but full-featured app.
With the help of RoomScan Pro, you'll be able to measure all of your home's rooms, including walls, doors, and openings. Make sure you watch the tutorial videos before you start, though. By necessity, this isn't your run-of-the-mill "open it and start using it" apps. RoomScan Pro is easy to use, once you learn the ins and outs, but it's very complex.
You can make use of ARKit to quickly and relatively easily scan the dimensions of your room. You just point your iPhone camera at the floor, moving around slowly until you see green arrows appear. That's when the magic can start.
Begin with a wall, and line it up in the crosshairs that appear. Tap the screen, and RoomScan Pro will mark that wall. Move on to the next wall, and mark a place on it.
As you encounter doors and other openings (not windows, yet), you can mark those as well. Just move the selection down to choose doors or openings, and mark them. When you're finished, you'll have a complete plan of that room.
An awesome and fun way to scan your homes' rooms and dimensions
Adding additional spaces is as easy as telling the app to begin a new room from an opening or door. The new room will begin its plan from that doorway or opening, generating a schematic of your entire home one room at a time.
If you can't see or access corners for some reason, it's no big deal. For one thing, the app doesn't rely on corners to make its measurements; as you'll see in the previous video, I didn't denote any corners at all. Where you might stumble in other apps is not being able to see the bottom of the wall, but the designers of RoomScan Pro have thought that through.
Another way to scan your room is by touching the walls. You simply place your iPhone up against the wall until you hear it beep, and then move to the next wall. RoomScan Pro uses your iPhone's various sensors to determine your movement and how long each wall is. The accuracy might not be 100 percent all the time, but it's astoundingly close. If you pair the app with a Bluetooth-enabled level, it becomes even more precise.
Once you've finished your drawings, you can either export them using the Share Sheet extension or to a professional app. With the free Share Sheet extensions, you can send your plans to Notes, Messages, Photos, or almost any other app you might think of.
For more professional use, you can also buy Export Credits. With these, you're able to save your floor plan, or blueprint, into a file format you can use in software on your computer.
For example, you can export your file to a PDF, either with no measurements at all or with room areas or wall lengths. You can also export your notes and photos to a PDF, or send your room sizes and inventory to an Excel-compatible file.
If you use CAD software, RoomScan Pro supports exporting your plans to the DXF file format usable by most platforms. There's also support for various floor plan formats used in the United Kingdom, Ireland, and other European countries.
When it comes time to renovate or redecorate your home or business, getting started with RoomScan Pro is a fantastic idea. The app supports the most common ways you might use blueprints or schematics, and generates highly accurate measurements.
Edit your plans
If the automatically-detected or placed walls, doors, or openings don't match your room, it's easy to edit them.
Use ARKit to scan a room
Using your iPhone camera and ARKit, RoomScan Pro can detect your walls' dimensions, along with openings and doors.
Touch walls to create plans
You can also scan rooms by touching your iPhone to walls, and the app will automatically detect their lengths.
Free photo sharing
Using the Share Sheet extensions, you can save your plans to Notes, Photos, or other apps for free.
FREE
RoomScan Pro – floor plan app
Locometric