Getting
swinging
and
winning,
Rope
Racers
has
arrived
It's
time
for
a
fast,
fun
and
friendly
racing
competition
Pocket Gaming
March 11, 2016
Just a few days ago, we told you that an awesome-looking, fast-paced new multiplayer racer was headed to the App Store and that day has arrived. Rope Racers from Small Giant Games will have you spinning like Spiderman, flying past your opponents, and swinging for an ultimate win.
Rope Racers
Small Giant Games Oy
Hold to attach and swing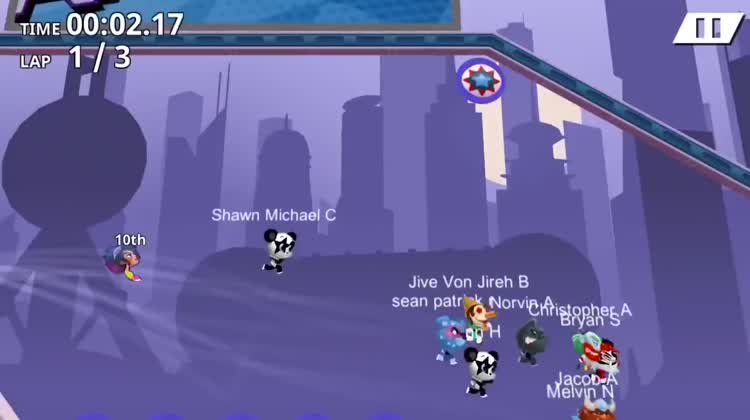 Hold down your finger to attach your rope and swing. Then release to do it again. Outswing your opponents on your way to the finish line.
Unlock characters
Earn cash when you do well in races to unlock one or more of the 30 cool characters. Then spin the wheel and see who pops up. Could that really be Elvis?
Use speed boosts
Keep your eyes peeled for speed boost spots and take advantage of them so you can fly ahead of the competition. With real-time, fast and furious races, you will need all the help you can get to win.
Get
Rope Racers
Rope Racers is a fast-moving, action-packed racing game. Unlock different leagues in Career Mode and when you get to level two, the Friendly Tournament area will be available for you to play against your Facebook friends.
While it takes a bit to get used to the controls of attaching your rope, swinging, and releasing at the right times, the game is really fun. And, when you come in first place a few times (oh yes I did!) it makes you want to keep up the momentum and keep on racing.
Rope Racers is designed for iPhone and iPad. It is available for free on the App Store with in-app purchases for cash, coins, and racers.
Race over to the App Store and get the game for free
Free
Rope Racers
Small Giant Games Oy
For more new games, check out: