See
the
World
on
a
Budget
With
Hitlist
The
app
that
lets
you
set
up
your
bucket
list
of
travel
destinations
June 12, 2017
Plenty of people love traveling, and just about everyone has a bucket list of things and places they want to see. The trouble is, not many of us can afford to book those trips with normal skyrocketing airfares. What we need is an app that does the legwork for us and finds the best deals on the trips we want to take. That's just what Hitlist does.
Hitlist lets you tell the app what trips you want to take, and then let the experts tell you when or where to go.
When you set up Hitlist, you should definitely visit the "My Hitlist" tab. This is where you can search for trips you already know you want to take, and how long you want to spend visiting those places. Hitlist will try to find the best deals on travel to those locations, but will allow you to set up a notification if there's no good deal at the time. The app will then tell you when a great fare shows up. You can also check out personalized recommendations based on your home airport, like weekend getaways. It's a very useful way to find the best deal, since Hitlist scours various sites to get the most economical fares.
For people who want to fill their traveling bucket list on a budget
Hitlist is more than just a travel agent app. It's a bucket list for those places you want to visit, but only when you can get the best deal. The app allows you to set up a "hitlist" in your profile, sharing that information with other members of the app's community. That way, they can help you find great places to visit and even let you know if they spot a good deal. Of course, Hitlist will also notify you of any great deals that come up to places on your bucket list.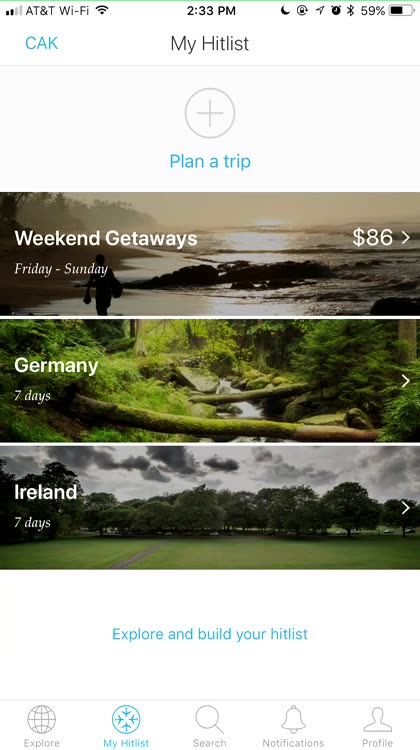 Through your Hitlist, you can find travel destinations you might not have thought about before. Weekend getaways are easily located, and they're all based on your home airport. This means that when you get a free weekend and want to travel somewhere, you can definitely find a spot to visit that meets your budget. You can also plan your trips here, letting Hitlist notify you when airfare drops enough to make the trip of your dreams a reachable goal.
When you want to travel on a budget, you need an app designed for that. Hitlist is exactly that, with plenty of features to help you find the best destinations at the best prices.
FREE
Hitlist
TripCommon Inc.