As
The
Setapp
Mac
Subscription
Service
Hits
100
Apps,
A
Giveaway
App-dicted
October 13, 2017
The Setapp Mac subscription service now includes 100 titles. To celebrate this milestone, MacPaw is giving away free annual Setapp accounts to a few lucky AppAdvice readers.
First introduced last December, the Setapp subscription service has changed how we can use Mac apps. Instead of paying full price, Setapp users pay a monthly fee to access some of the most useful Mac apps on the market, including Ulysses, MoneyWiz, and Photolemur.
I've been using Setapp since it launched in beta. As I noted in January, MacPaw had created a system that just works. My biggest concern at the time was whether Setapp could expand beyond the 60 apps it has included in the service at the time.
At $9.99 per month, Setapp is $119.88 per year, which could be viewed as expensive, depending on the number of apps used. Based on your circumstances, it might be more economical to buy the apps you need.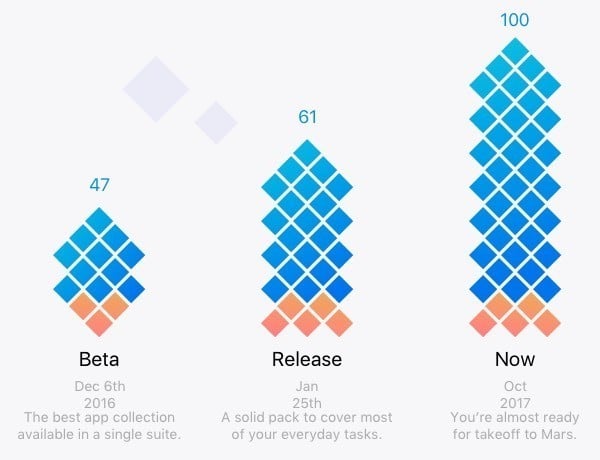 With the count now at 100 titles, it looks like Setapp is doing just fine. And yes, I continue to use it each day.
If you haven't yet tried the Setapp Mac subscription service, you should do so. New users receive one month of service for free, no credit card required.
MacPaw has given us five free annual Setapp accounts to give away. If you'd like to be considered, please let us know below.
In your comment, tell us why you'd like a subscription and note the three Mac apps you'd most like to use with the service.
A full list of Setapp apps is available here.
Winners will be contacted next week via email.