Should
iOS
Device
Owners
Buy
Fender
Pro
In-Ear
Monitors?
Spending
up
to
$500
for
a
pair
of
monitors
might
make
sense
for
some
Accessories
June 22, 2016
It's not very often that a new player enters the ear audio market. It's even rarer when that company is an iconic brand such as Fender Musical Instruments, or simply, Fender, an American manufacturer known for its stringed instruments and amplifiers.
That's what happened earlier this year when the Stratocaster guitar maker bought Aurisonics and promptly announced five new in-ear monitors, based on the popular Aurisonics Bravo series. These include the DXA1 ($100), FXA2 ($200), FXA5 ($300), FXA6 ($400), and FXA7 ($500).
For the past month, I've been using the mid-priced FXA5. Here's my review.
The Facts
Product
FXA5 Pro In-Ear Monitors
Colors
Metallic Black and Gray
Fender's new in-ear monitors are unique in many respects. For one, they're made stateside in Nashville, Tennessee. Yes, you read that correctly, these are American made.
For another, the shells are manufactured using 3-D printing. The reason? Fender says that injection-molding usually utilized for these types of products doesn't work here because the ear tube is too small and fragile. Once made, each shell is polished by hand, giving it a smooth finish. Of the five Fender in-ear monitors in this series, all but one is made this way. The one that is different is the entry-level Fender DXA1.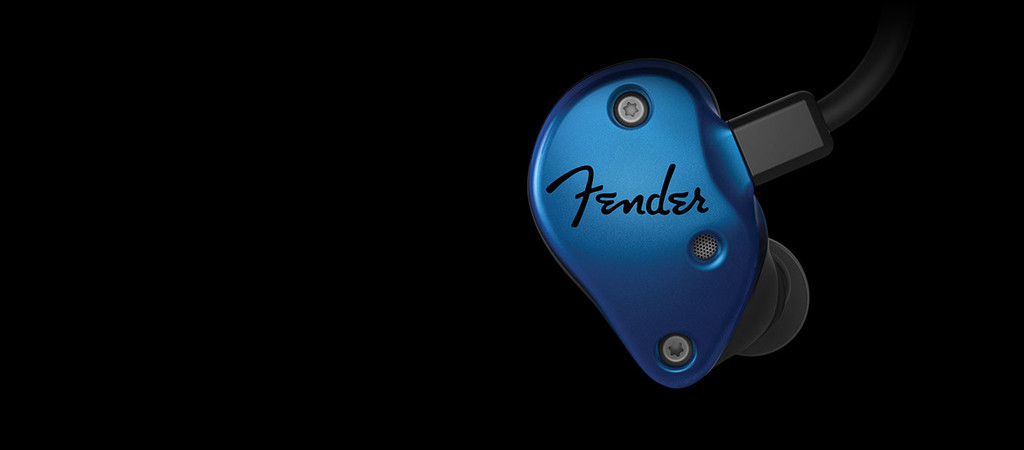 Design and Hardware
Let's get something important out of the way first. Fender is charging a lot for these in-ear monitors, with prices ranging from $100 to $500.
For this, you're getting two monitors, a deluxe carrying case, eight secure-fit tips, a 1/8-inch-to-1/4-inch adapter, plus a cleaning tool. Each pair uses a detachable, braided MMCXi cable, which Fender promises are replaceable.
From a hardware standpoint, these monitors are light, yet solid and durable. Just how durable? My iRobot vacuum cleaner tried to make an early lunch out of one of the cables. Thankfully, the cable won, but this was a random test that I don't plan on repeating.
How do the monitors feel? 
Mass-produced monitors often have sizing issues. When they don't fit correctly, the monitor's leak sound, which degrades the experience. This difficulty is one of the reasons professionals prefer custom-made monitors such as the JH13 (starting at $1,175).Based on extensive research, Fender claims the shell on its monitors fit 95 percent of ears. Helping with this are the tips made of a thermoplastic elastomer that conforms to the shape of your ear canal as the material warms up.
I can't validate Fender's 95 percent claim, except to say that once I found the right tip and figured out how to use the attached loops, the monitors fit for me. During long-term use, however, I didn't find them all that comfortable. I have found this issue with in-ear headphones and monitors. It's a personal choice.
Sound
What makes each set of monitors different? 
Despite the wide price range, Fender's in-ear monitors share many features.  Each, for example, uses a detachable, braided MMCXi cable (which reduces signal loss), and delivers passive noise reduction of 22dB. Low impedance is 16 ohms on all models.
Like many in-ear monitors, the FXA5 uses balanced armatures, which are good at reproducing higher frequencies. Here they generate transparent audio with a 19Hz-21kHz frequency response for punchy bass, juicy middles, and crisp high-ends. The model features a Groove-tuned bass port.
For my tests, I listened to the following songs via Apple Music:
"Prologue" by Alexandre Desplat, "Birth (Original Score) Soundtrack"
"Hey Eugene" by Pink Martini, "Hey Eugene!"
"Wall of Glass" by Don Ross, "Don Ross"
The Bottom Line
Rating the Fender FXA5 Pro In-Ear Monitors
The Bottom Line
Fender has done a terrific job at making mass-market in-ear monitors that fit and sound fantastic. Are they for everyone? No. For smartphone owners, in fact, they might be a poor choice since the included cables don't include remote controls or a mic.
Regardless, I cannot deny that these in-ear monitors pack great sounds and are durable enough to probably work for many years to come.
It's up to you to decide whether the cost of admission is worth it.