Who's
Hungry
Amigos?
Taco
Joe
Is
Here
to
Serve
Become
a
taco
master
in
this
new
arcade
challenge
Pocket Gaming
May 10, 2016
If you enjoy arcade games with upbeat stories, colorful graphics, and just enough of a challenge to keep you coming back, then Taco Joe is for you. This enjoyable new game has you shooting tacos at a hungry crowd while scoring big. So, put on your sombrero, take aim, and serve up those tasty taco treats.
Taco Joe
Sticky Toffee Studios Ltd
Serve the hungry crowd
Your mission is to shoot those tacos to the approaching crowd. Tap on the correct taco type, from beef, chicken, or fish, and hold down to aim. Release to toss that taco to the one who ordered it. You must feed everyone before they cross the line. And, if some start getting a bit too close, you can whack them with a taco.
Pick up beans and coins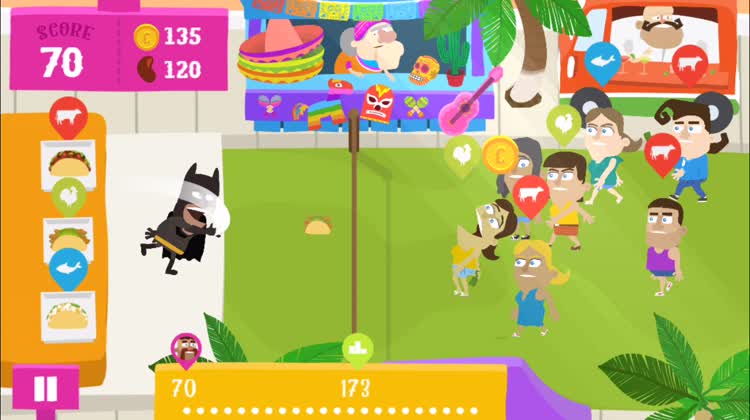 As you continue on, beans and coins will pop up on the screen, so try to tap and collect them. Beans can be used to unlock additional characters and coins can be traded for blows to the piñata. Crack open that piñata to receive special prizes. And, if a skull shows up, be sure to tap it to activate the Taco Blaster.
Select a cool character
There are 15 funky characters in Taco Joe. You can use beans or in-app purchases to unlock them or hope that the piñata pops one out for you. You will start as Taco Joe, but can soon become Zombie Joe, Marty McJoe, BatJoe, or even Ninja Joe.
Taco toss, missions, and cinema
You can compete with friends in a riveting taco toss battle or just concentrate on scoring high and completing missions for valuable rewards. You can also head over to the cinema to earn extra beans by watching short video ads.
Get
Taco Joe
Taco Joe is lively, fun, and one of those hard-to-put down arcade games. It takes a bit to get the hang of aiming correctly to shoot the tacos, but knowing you can take people out with them, as well as serve them, makes is pretty comical. Plus, all of the little extras like the taco toss, piñata whacking, and additional characters make it a truly enjoyable taco-shooting experience.
Taco Joe is designed for iPhone and iPad. It is available for free on the App Store with in-app purchases for additional characters which will also remove the ads.
start shooting those tacos, the game is available for free
Free
Taco Joe
Sticky Toffee Studios Ltd
For more new games, take a look at: