Get in shape in 8 weeks with the official and often imitated 5K Runner® 0 to 5K program
5K Runner, Couch Potato to 5K
by FITNESS22 LTD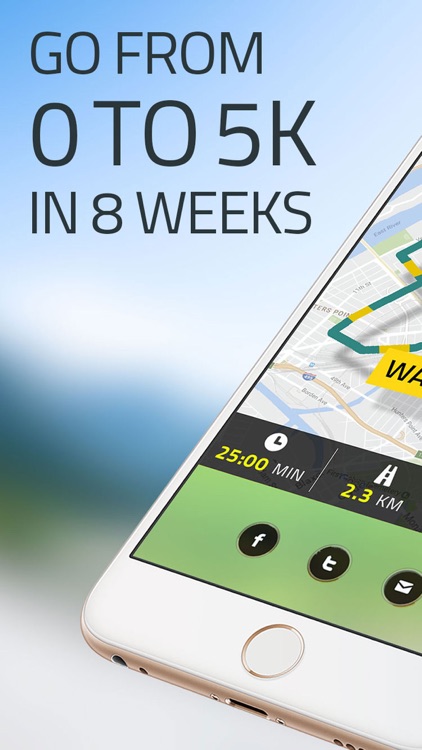 What is it about?
Get in shape in 8 weeks with the official and often imitated 5K Runner® 0 to 5K program. This app has over 4.2 million success stories of people that got in shape and started living healthy, and you can do it too. Only 30 mins, 3 times a week, for 8 weeks and you will run 5K.
For those who...
It's for anyone who wants to lose some weight and get in shape.
Not for those who...
It all ends at 5K. If you want to go farther you'll have to check out 10K runner by Fitness 22.
Why we love it
If you want to get your health on the right track, 5K Runner is the way to do it. Anyone can achieve a 5K distance running with this helpful fitness app.
App Store Description
Get in shape in 8 weeks with the official and often imitated 5K Runner® 0 to 5K program. This app has over 4.2 million success stories of people that got in shape and started living healthy, and you can do it too. Only 30 mins, 3 times a week, for 8 weeks and you will run 5K.

Get ready to start your new healthy life.

This app has won multiple awards (see below), is the most effective & popular 0-5K app and is highly recommended by health & fitness experts.

Features
● Alternating walk / run intervals
● Run segments gradually increase over 8 weeks
● Human coach voice through your headphones that tells you when to walk / run.
● Listen to your music and the coach will blend in
● Control music through the app or headphones
● Compatible with Nike+ and all other GPS apps
● Compatible with all music apps
● Giant community of 0-5K runners on Facebook
● Earn achievements & badges as you advance
● Integrated with Facebook & Twitter
● Outdoors or Treadmill

GPS & Apple Health
● Built in GPS & Distance Tracking, also when app is in background
● Integrated with Apple Health for Calorie calculation & saving workouts

NOTE: Continued use of GPS running in the background can dramatically decrease battery life.

Simple, Easy, and Gets Results
● Nothing to learn. Just press start
● Excellent for weight loss
● The best & most effective 5K training app
● Completely ad-free

We're here for you
● We gladly answer all questions - just ask us at: [email protected]

Praise
- 4.2 Million People successfully did it

- Awards: Best 5K Training App, Best Running App, Editor's Choice, Top fitness app, Best Beginner App, Top Quality App, Best fitness and nutrition apps.

- Featured on CNN, Fox, USA Today, Times, Fitness Channel, Apple's "New & Noteworthy", AppAdvice, AppCraver, Best10Apps, Appolicious, Daily Motion, AppOfTheDay, MakeUseOf, the iPhone App Review, Remix Your Health, AppShopper, Apple's Top Health & Fitness apps, and so many others.

- Recommended by doctors on healthTap.com

- See real life success stories on facebook.com/5K.Runner.Community

Press Reviews
"If you thought that you could never run - get ready for a BIG surprise. With this app - you will run"

"It's a great App, I was hooked by the second run, and it kept me running"

"If you want to start running and to keep running - this app will do it for you"

"One of the best iPhone running apps I've tested." 

"This application is a must-have fitness trainer for anyone trying to catch the running bug or getting ready for a major running event"

"This app is amazingly effective and will help you achieve that coveted 5K distance. If you want to get running, this app is a must."


Do Good
- We are proud to be associated with several charitable organizations. Although we contribute to several causes, we have a particular soft spot for animals and are proud to contribute to aspca.org and rescuefromthehart.org. Please also consider donating.

● Privacy Policy:
http://www.fitness22.com/privacy-policy

----- CONTACT US -----
Dear customers, we are here for you!
Questions? Comments? Ideas?
[email protected]