**30% off Pro annual Subscription
Autodesk SketchBook
by Autodesk Inc.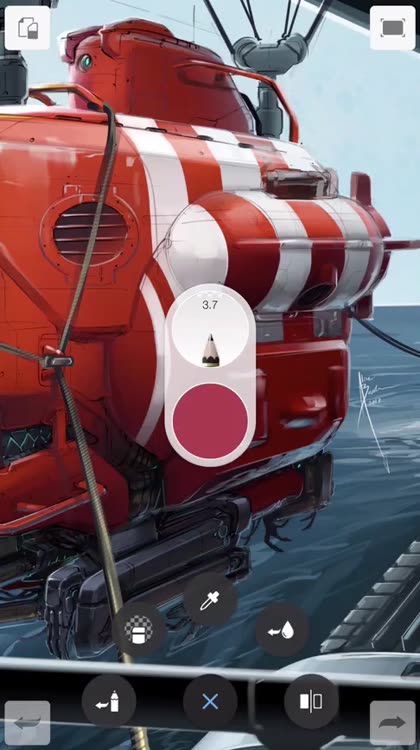 What is it about?
**30% off Pro annual Subscription. Offer expires 7/31/17 12AM**
Autodesk SketchBook is FREE but there are more add-ons
$4.99

Pro Tools

$4.99

Autodesk SketchBook Pro Membership

$29.99

Autodesk SketchBook Pro Membership
App Store Description
**30% off Pro annual Subscription. Offer expires 7/31/17 12AM**
Autodesk SketchBook is the drawing app made for those who include sketching as part of their daily routine, from creative professionals to aspiring artists. With SketchBook, drawing and painting on your iPad or iPhone feels like a natural creative experience. SketchBook's powerful brush engine has over 170 customizable brushes, which perform exactly as you expect. Ink feels fluid and smooth, synthetic brushes blend colors in a natural way, and texture brushes mimic natural media.

The SketchBook drawing and rendering engine was designed to use the full computing power of every iOS device, especially the iPad Pro with Apple Pencil. SketchBook now features a maximum canvas size up to 100 mpx, unlimited* layers, more than 170 customizable brushes, and an even smoother experience when drawing with the Apple Pencil.

SketchBook is made to let you easily access powerful drawing tools, without creating a cluttered workspace. SketchBook has a full screen mode, called the Rapid UI mode, which hides all interface elements, for the largest possible workspace on your iPad or iPhone. While working in Rapid UI mode, you can pull up the brush, layer, and color editors, simply by swiping your non-dominant thumb, along the edge of the screen. Make a selection in the menu with your drawing hand, then lift your thumb to make the entire interface disappear.

Some of the common drawing controls require almost no interface. To access common elements, like the Color Picker, Eraser, Flip Canvas, Last Brush, and Double Puck, tap the translucent circle at the bottom of the canvas and make a selection. As you gain muscle-memory for these tools, simply tap-and-flick in the direction of the tool you want to automatically select it.

Create perfectly symmetrical drawings with X, Y, X-Y, and radial symmetry tools. Reposition the line of symmetry anywhere on the canvas for precise control. Use up to 16 sectors of radial symmetry for precise radial sketches.

For professional line work and consistently precise lines, use the Predictive Stroke feature, one of the most popular features in the SketchBook desktop app. If you draw a line, Predictive Stroke makes your line straight. If you draw a basic shape, Predictive Stroke corrects your shape, creating precise circles, rectangles, and triangles. If you are drawing freehand and want to apply smoothing, Predictive Stroke will add the right amount of smoothing to curved lines.

Customizable ruler and ellipse tools allow artists and designers to place precise lines or elliptical shapes, such as circles in perspective, by adjusting the position, size, rotation, and aspect ratio of the drawing guides.

SketchBook opens and exports Photoshop documents (PSD files) natively, preserving layer names and blending modes for smooth interoperability with other software tools in your workflow.

A SketchBook subscription is a simple way to ensure you get the best SketchBook experience on all your devices. As a subscriber, you get every new feature, every update, every tool, and the ability to use SketchBook on any device for as long as your subscription is active. SketchBook Subscription includes access to SketchBook Motion, the 2016 iPad App of the Year (installed separately in iTunes). Buy it here in the App Store, and your SketchBook account will unlock all Pro tools on all your other devices.

Additional Information:
• Subscriptions are charged through your iTunes Account, for USD $29.99/year or USD $4.99/month.
• Subscription automatically renews for the selected period, unless auto-renew is turned off at least 24-hours before the end of the current period. You'll receive a reminder email, prior to the end of your current subscription period.
• Manage subscription preferences in iTunes.


*The Layer Stack isn't limited by the software. When creating a new drawing, SketchBook calculates the maximum layers based on canvas size and available device memory.