Back to Bed is a 3D indie puzzle game set in a unique and artistic dream world, wherein you guide the sleepwalker Bob to the safety of his bed

Back to Bed
by Bedtime Digital Games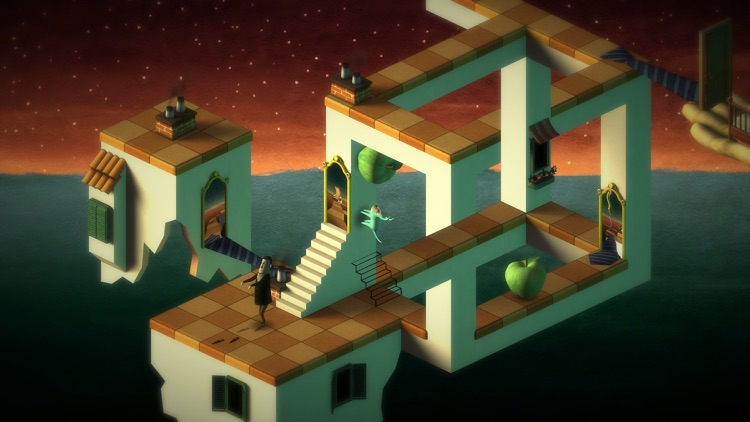 What is it about?
Back to Bed is a 3D indie puzzle game set in a unique and artistic dream world, wherein you guide the sleepwalker Bob to the safety of his bed. To achieve this, you must take control of Bob's subconscious guardian named Subob. The pair travels through a surreal and painting-like dream world, filled with objects used to guide Bob towards the Bed, but also dangers that must be avoided!
For those who...
It's for those who enjoy games like Monument Valley.
Not for those who...
The biggest issue with Back to Bed is its pacing and controls. Both take a bit of getting used to.
Why we love it
If you can appreciate the works of Salvador Dali and enjoy a good casual puzzle, there isn't a more perfect game for you than Back to Bed. Everything about the game simply oozes style.
App Store Description
Back to Bed is a 3D indie puzzle game set in a unique and artistic dream world, wherein you guide the sleepwalker Bob to the safety of his bed. To achieve this, you must take control of Bob's subconscious guardian named Subob. The pair travels through a surreal and painting-like dream world, filled with objects used to guide Bob towards the Bed, but also dangers that must be avoided!

No ads and no in-app purchases.

=========

"The lines are blurred between art and game. If you feel like being caught between worlds, this is the game to take the trip with." - Touch Arcade

"Back to Bed manages to simultaneously be predictable and surprising, sleepy and lively, scary and comforting—just like any good piece of Surrealist art." - Killscreen

"Back to Bed is what happens when you let Dali, Escher, and Magritte develop a game." - PowerUpGaming.co.uk

"What you see isn't always what it seems, and the moments that use these ploys are some of the best Back to Bed has to offer. It's mindbending and an utter delight." - Twinfinite

=========

Awards & Nominations:

- IGF Student Showcase Winner 2013

- Dutch Game Awards 2012: Guts & Glory Award

- Unity Awards 2012: Best Student Project - Nominee

- Nordic Game Indie Night 2012: Finalist

- Casual Connect Europe 2014: Best Console - Nominee

=========

Features:

• Unique surreal and artistic game universe: A strange but beautiful dream universe that mixes elements from the real world and the world of dreams to create something unique, surreal and sometimes a bit scary.

• Isometric puzzle levels: Navigate detailed 3D puzzles that defy the laws of physics, wherein the player must manipulate the strange environment to create a safe path Bob and avoid the dangers of the puzzle.

• Two characters as one: Play as the embodied subconsciousness, in the form of a small guardian creature, trying to save its own sleepwalking body from dangers of the dream world.

• Picturesque visual style: Discover the feeling of playing in a piece of art set in a digital frame. A visual style inspired by hand-painted techniques, surreal art and impossible shapes.

• Nightmare mode: Unlock a more challenging version of the game, made for those who truly want to test their puzzle solving skills and enjoy thinking many steps ahead, or who are just too stubborn to give up.

• MFI Controller Supported

=========

Keep up with Back to Bed at www.facebook.com/Backtobedthegame

Privacy Policy:
Back to Bed sends automated bug reports, device information, gameplay and location data. The information sent does not include personal or private information nor can it be used to reveal the identity of a player. The purpose of the data is to discover bugs and improve the experience of Back to Bed on the most common devices. All information is strictly for internal use and will not be provided to any third party.