Take command and see your Troopers devastate a rampaging alien horde
Boom Brigade 2
by 10tons Ltd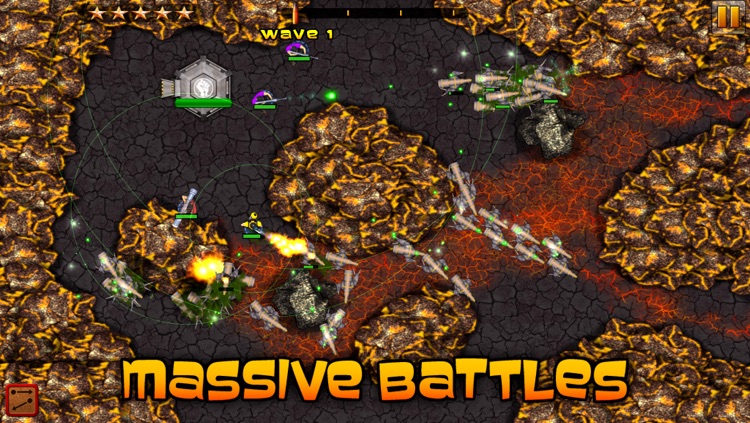 What is it about?
Take command and see your Troopers devastate a rampaging alien horde! Issue orders in real time or use the Tactical Mode for detailed manouvers. Fight your way through the campaign, unlock powerful upgrades and challenging extra game modes. Load up and save the Earth now!
For those who...
Boom Brigade 2 is ideal for gamers who enjoy a mix of strategy, top-down shooting action, and line drawing.
Not for those who...
If the line drawing mechanic isn't to your liking, you're going to have to skip Boom Brigade 2 today. It doesn't offer any other way of controlling the troops.
Why we love it
If you enjoy classic mobile games like Flight Control, this one should be right up your alley. It'll make you feel as if it's 2009 all over again.
App Store Description
Take command and see your Troopers devastate a rampaging alien horde! Issue orders in real time or use the Tactical Mode for detailed manouvers. Fight your way through the campaign, unlock powerful upgrades and challenging extra game modes. Load up and save the Earth now!

REVIEWS:

"Anyone that wants to engage in a little alien annihilation need to check this game out."
- Touch Arcade 4/5

"A great balance between action and strategy"
- Apple'n'Apps 4/5

"There are 30 missions, with five upgradable trooper types, making for a long-lasting challenge."
- The Guardian

"Erfrischende Spielidee mit Tower-Defense- und Echtzeitstrategieelementen."
- ireviewt.com 4/5

DESCRIPTION

Boom Brigade 2 is an action packed experience combining line drawing, top down shooter and real time strategy. The game features a hand crafted campaign with 30 missions and several quick play modes with Game Center leaderboards.

Active defense warfare has never been this effective: Draw paths to your Troopers, and they'll blast aliens within weapon range automatically.

Pause the action with Tactical Mode when things get hectic. Find the best combination of upgrades and tactics to earn five stars in each mission. Trigger devastating powerups for extra mayhem!

Boom Brigade 2 includes all the Troopers form Boom Brigade plus a new class, the Sniper. The Sniper excels at obliterating priority targets from a great distance.

View trailer at bit.ly/bb2video

FEATURES

- Explosive action against a rampaging alien horde
- Five unlockable upgrades for each character
- A hand crafted campaign including 30 missions
- Varying types of alien enemies that require different tactics
- Survival levels with leaderboards
- Other interesting quick game modes like "Medical Emergency" with leaderboards
- Over a dozen achievements