◆◆◆ Silver Winner in the 2014 US Mobile & App Design Awards ◆◆◆

Bubble Browser for Evernote
by Macoscope sp. z o.o.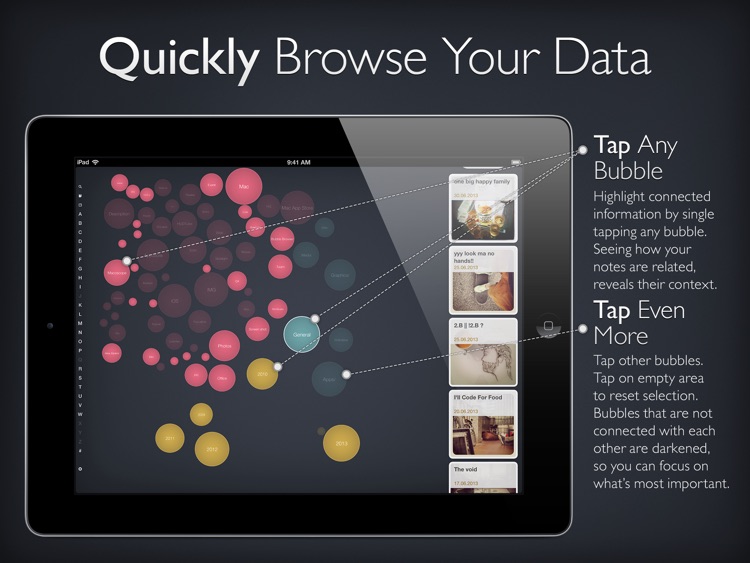 What is it about?
◆◆◆ Silver Winner in the 2014 US Mobile & App Design Awards ◆◆◆
For those who...
It's for anyone who frequently utilizes Evernote.
Not for those who...
Bubble Browser only allows you to view content. None of it is editable within the app. Instead, you have to leave and head to Evernote's website. If you want to edit content, this is definitely not the app for you.
Why we love it
If you have a ton of notes within Evernote, you'll want to check out Bubble Browser. It's a really fun way to add context to your old notes.
App Store Description
◆◆◆ Silver Winner in the 2014 US Mobile & App Design Awards ◆◆◆
◆ ◆ ◆ WE DESIGN AND DEVELOP APPS LIKE THIS ◆ HIRE US AT MACOSCOPE.COM ◆ ◆

Bubble Browser is a clean, visual (and fun!) way to explore your Evernote memories.
We all know that information is irrelevant without the context. Our experiments with new ways of discovering information brought us to the idea of visual, near-organic browsing experience.

By presenting your data in an aesthetic, more natural and approachable way, Bubble Browser addresses a challenge of dealing with constantly increasing amounts of information.

Tags, notebooks and dates are presented as colorful bubbles showing what's most important in every given context. You can see how often particular tag was used at a glance and easily navigate back through the history of your notes. In short - the bigger the bubble is, the more stuff is inside.

"While classic notes exploration is like looking into the grocery store through a mail slot to see what you need, Bubble Browser brings you right into the shopping mall to see what's on the shelf." commented one of the app's early adopters.

Bubble Browser for iPad is a completely new app based on our experience gained from our work on the Mac version.

Watch more: https://vimeo.com/69616334