Be prepared to laugh as you exercise and get healthy
CARROT Fit
by Grailr LLC
watch trailer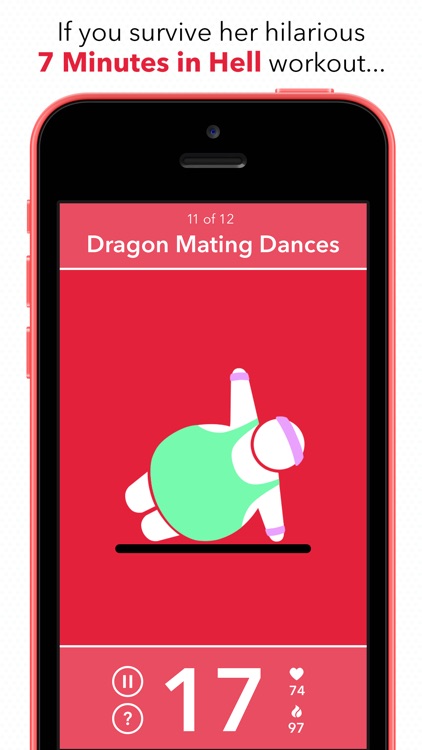 $3.99

in the App Store
The biggest rage in fitness is the seven-minute workout, which challenges your body with 12 high intensity 30-second exercises with 10 seconds of rest between each set. Who better to egg you on through this taxing exercise session than the malevolent robot, CARROT?
Weigh-in. If you loose weight, you'll receive a number of rewards including extra features for the app. If you don't, be prepared to be punished with "tasteful" ads, calorie shaming, and even squirrel attacks.
Time for a workout. The main feature of the workout is a great 7-minute workout. And just like the other parts of the app, be prepared to laugh.
What is it about?
If you need a little more motivation behind losing weight, how about a robot who will do this by judging you every step of the way?
For those who...
Are looking for a quick and easy way to keep active.
Want to import information from the Health app.
Like to laugh and enjoy the CARROT series sense of humor.
Not for those who...
Are easily offended.
Looking for a more full-featured app.
Why we love it
If you're looking for a slick weight tracker app with a dash of motivation, then I recommend giving CARROT Fit a try. CARROT Fit features a beautiful and simplistic interface that you will instantly recognize if you've used her other apps. You'll find hilarious chubby avatars to choose from to represent yourself, amusing animations of CARROT's punishments when you gain weight instead of lose it, easy-to-read text, and of course, CARROT's sinister, GLaDOS-like voice as she makes commentary on your progress. If you do well, she will reward you with a bit of confetti and such, you know, to make you feel special.
CARROT Fit is $3.99 but there are more add-ons
$1.99

Exercise Booster Pack
App Store Description
Make getting in shape suck so much less with CARROT's hilariously snarky fitness app.

** Featured by Apple, Good Morning America, NY Times, USA Today, CNN, Wired, CNet, & more! **

CARROT is a sadistic AI construct with one simple goal: to transform your flabby carcass into a Grade A specimen of the human race. She will do whatever it takes - including threatening, inspiring, ridiculing, and bribing you - to make this happen.

You will get fit - or else.

---

7 Minutes in Hell Workout
Employing SCIENCE™ to compact an hours-long workout program into just 7 sweat-and-pop-culture-soaked minutes, CARROT will train you personally on exercises like Mt. Doom Climbs, Celebrity Face Punches, and Dragon Mating Dances.

You get 30 seconds for each of the 12 punishing exercises,* with 10 seconds of rest in between just in case you need to hydrate, catch your breath, or vomit into a bucket.

This diabolical interval workout can be completed anywhere, at any time, so you have no excuse not to be in fighting shape when the Robopocalypse begins.

*12 additional exercises can be unlocked via in-app purchase.

---

Lose (or Gain) Weight In Style
Are you ready to have so much fun tracking your weight that you'll actually look forward to hopping on your scale? All you have to do is punch in your current weight, then sit back and let CARROT pass judgment upon you.

WARNING: If you blimp up or slim down too much, CARROT will be upset. When CARROT is upset, she gets mean. When CARROT gets mean, there is a 74.9% chance that she will make you cry.

---

Claim Your Rewards
If you work out and slough off those extra pounds, CARROT will reward you with fabulous prizes like app upgrades, cat facts, and permission to watch your friend eat a bag of potato chips.

Track Your Awesomeness
Because math is hard, CARROT will do all the number-crunching for you. See how many steps you've taken today, chart your weight loss on a pretty graph, view your workouts on a calendar, and more!

And because CARROT syncs with Apple's Health app, she can save your weight and workout data to the HealthKit database. She can also monitor fitness activity logged with other HealthKit-compatible apps, even when you're not actively using her.

---

Features:

- Work out with a hilarious AI construct
- Enjoy 3+ hours of spoken tips, encouragement, and ridicule
- Travel through time, protect your property from hobos, and appease an elder god in 12 original, never-before-seen exercises
- Get 12 additional exercises via in-app purchase
- Apple Watch app works as a heads-up display for your workout
- Record your weight up to once a day
- Bond with your cute & cuddly meatbag avatar
- Level up and unlock rewards for getting fit
- Set reminders so you'll never forget a workout
- Track your weight progress on a pretty graph
- Set a goal weight that you'll likely never meet
- See how many steps you've taken today
- Check your BMI to determine if you're still obese
- Sync data with Apple's Health app

Don't make CARROT angry. Download her immediately!

---

Have feedback? CARROT would love to hear from you!

[email protected]
http://www.twitter.com/CARROT_app
http://www.facebook.com/CARROTapp