**Best Kids App in more than 50 countries
Dr. Panda Restaurant 2
by Dr. Panda Ltd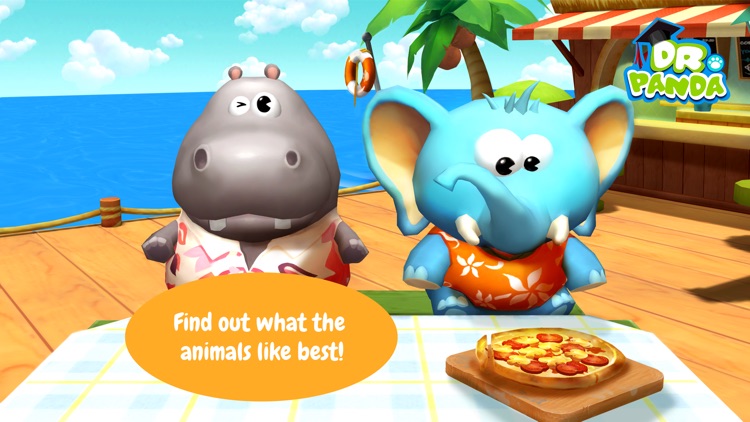 $2.99

in the App Store
Your little ones can join Dr. Panda's team of chefs and whip up something tasty in Dr. Panda's Restaurant 2.
What is it about?
**Best Kids App in more than 50 countries!** Dr. Panda's Restaurant is re-opening, and this time all the choices are yours!
For those who...
It's for children who enjoy cooking.
Not for those who...
The app is intended for children above the age of five. The interface and wide variety of options make it too complicated for younger children to handle.
Why we love it
If your child has shown an interest in cooking, Dr. Panda's Restaurant 2 will feed their appetite. They're able to be as creative as they want, and the fun 3-D characters will keep them company along the way.
App Details
Last updated
November 23, 2017
Release date
January 24, 2014
App Store Description
**Best Kids App in more than 50 countries!** Dr. Panda's Restaurant is re-opening, and this time all the choices are yours!

Winner of a NAPPA Gold Award!
"You absolutely do not want to miss this." Smart App for Kids
"Great app for preschoolers and definitely a lot of fun to play" Mummy is a Gadget Geek
"Great way of encouraging children to think about food and how it is prepared" Family Tech
"Pretty, fun and rich. It gives a great overview of what cooking is" A Dr. Panda fan.

Make the pizza of your dreams, a pasta dish to rave about, or a soup so spicy your customers will breathe fire! Sweet or salty? Spicy or bitter? It's up to you!

Kids can take charge in their own kitchen in Dr. Panda's Restaurant 2! Future fine chefs have the freedom to choose what they want to prepare and exactly how they'd like to prepare it! Chop, grate, blend, fry and more with over 20 ingredients and create the perfect (or perfectly disgusting!) dish! Feed them to your customers and pay attention to how they react--it'll be different every time! In Dr. Panda's Restaurant 2 you can be a master chef, so get cooking!

Key features:
•Choose from over 20 ingredients: Fish, kiwifruit, eggs, peppers, tomatoes and more!
•Chop, bake, boil, fry and more to make the perfect dish!
•Experiment and have fun! No time limits or scoring.
•Check out how customers react to what you use and how you cook! Dozens of different reactions to see!
•Vegetarian mode included!
•Safe for kids! Absolutely no third-party ads!

Educational Values:
•Learn the basic steps of making all sorts of different foods!
•Get familiar with how different recipes and kitchen tools work!
•Pick up on facial cues and choose what things customers want to eat!

Download Dr. Panda's Restaurant 2 NOW and start cooking!

Privacy Policy
As a designer of kids' games, we understand how important privacy is in this modern, digital world. You can read our privacy policy here: http://www.drpanda.com/privacy

About Dr. Panda
Dr. Panda is a developer of games for kids. We develop games with educational values that help kids learn about the world. All of our games are safe and do not contain inappropriate content.

If you'd like to know more about us and how we design games for kids, visit our website www.drpanda.com/about. If you have any questions, feel free to send us an email at [email protected] or contact us on Facebook (www.facebook.com/drpandagames) or Twitter (www.twitter.com/drpandagames) or Instagram (www.instagram.com/drpandagames)