Automate the heck out of writing and editing text
Editorial
by omz:software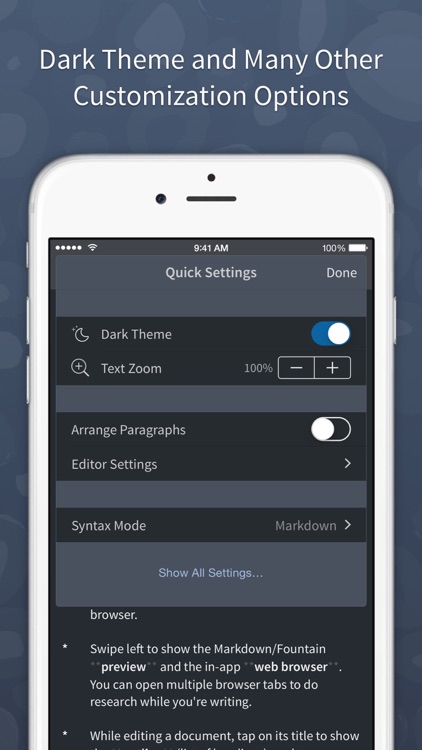 $4.99

in the App Store
Editorial allows users to create Automator-like or Python-scripted workflows to speed things up and make editing and publishing more exciting.
Useful shortcuts. While the real meat of Editorial is are the workflows that it is capable of implementing, that doesn't mean that writing without them is a pain. Editorial has its own keyboard extension when you're writing with the software keyboard for quick access to commonly used characters, such as the parentheses. It may not be as fully featured as the keyboard extensions of other apps, but that's because other apps don't have workflow support built-in. There is even a browser that you can use for research and other helpful tools that any power user can appreciate.
Automate your writing. Editorial's magic lies behind the implementation of workflows. You can create workflows for anything, such as find-and-replace, inserting links, adding footnotes, fetching images, and anything else that you can think of. If you're wondering what Editorial is capable of, make sure to check out the workflow directly for a full repository of amazing automations to make your writing easier. Or if you know Phythonista or can't find what you need, just make your own with easy step-by-step workflow building tools.
What is it about?
If you write and edit text on a regular basis, some tasks can seem repetitive. Insert a link here in this format, or pull information from a specific place and insert it. Copy all your text and open a particular app. For tasks like these and more, workflows in Editorial can make the process much faster and more enjoyable.
For those who...
Have repetitive tasks associated with text editing based on their workflows
Are familiar with Automator on the Mac or know how to code Python (but this is optional!)
Edit using the Markdown syntax
Not for those who...
Don't edit text too often
Don't make any formatting or stylistic changes to their text using Markdown
Want something simple to use
Why we love it
For when certain tasks involved with text editing become repetitive and mundane – and these will depend on your workflow – Editorial can allow you to virtually skip over those steps to keep your work habits efficient and interesting.
App Store Description
Editorial is a plain text editor for iOS with powerful automation tools and a beautiful inline preview for Markdown, TaskPaper, and Fountain documents.

Features:

* Inline Markdown/Fountain Preview – With Editorial's subtle syntax highlighting, you can see your document's formatting immediately while you're writing. And when you need a full HTML preview, it's just a swipe away.

* Extensible with Workflows and Scripts – Select from over 50 text processing actions to create your own workflows for extending Editorial's feature set. For even more advanced automation, you can write Python scripts with an integrated code and UI editor.

* Dropbox Sync – The sync folder is customizable, so you can easily edit your documents with multiple apps.

* Smart Keyboard – The extended keyboard was specifically designed for writing Markdown and includes all the special characters you need. You can also control the cursor with simple swipe gestures.

* Snippets – Quickly insert frequently-used pieces of text by typing abbreviations. Snippets can include dynamic text, e.g. the current date or clipboard contents. TextExpander™ snippets are also supported.

* In-App Browser – If you need to do some quick research while writing, you don't have to leave the app for that. You can even open multiple tabs.

* "Folding" allows you to quickly hide individual sections of your document while you're writing.

*** *** ***

"It would be hard to imagine a better editor, let alone recommend one that actually exists." — The Verge

"This is it. Editorial sets a new standard for third-party iOS automation, and, for me, there's no going back." — Federico Viticci, MacStories

"Editorial just reinvented iOS text editing." — Merlin Mann