GRAVITATE AROUND LOVE
Fallin Love - The Game of Love
by CHESTNUT GAMES S.R.L.S.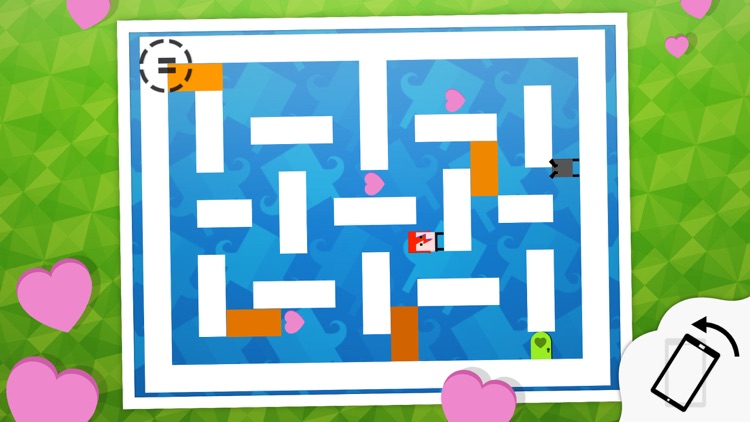 FREE

in the App Store
Help Fall, a little green block, obtain a disguise that will catch the attention of the woman he loves in this brain teaser.
What is it about?
GRAVITATE AROUND LOVE
For those who...
Fallin Love is for anyone who enjoys charming puzzle games.
Not for those who...
Fallin Love may be cute, but it's also brutally difficult at times. Plus, there aren't any hints available in case you get stuck. If you don't want your patience tested, skip Fallin Love.
Why we love it
If you like puzzle games with cute stories, you're going to fall in love with Fallin Love. By the end of the first level you will be rooting for Fall to find achieve true love.
Fallin Love is FREE but there are more add-ons
App Store Description
GRAVITATE AROUND LOVE

Help Fall, a tiny block unnoticed by the woman he loves, in his quest for a disguise that will catch her attention. Guide him by playing with gravity and beat more than 70 mind-teasing levels by collecting cool disguises. Because somehow, each new disguise will bring Fall one step closer to winning her love.

By rotating the device or finger-swiping, gather the costumes artfully placed in each level and try to collect as many hearts as you can. To make things a bit more challenging, different kinds of colored blocks will have to be taken into account, sometimes making your task easier and other times more complicated. And of course, there are fearsome enemies and traps to be avoided!

Fall is a tiny block guy. One day as he wanders the streets, he meets Kaisa. It is love at first sight. Unfortunately for him, Kaisa only seems to have eyes for a poster of a man with a mustache. No problem! If having mustache is what it takes to secure his new sweetheart's attention, Fall will find a mustache. But the thing is, Kaisa's desire is fickle, to say the least. By the time Fall finds the mustache, it's already too late as Kaisa is now looking for a brave astronaut. So begins Fallin Love, the never-ending chase for love of a man determined to please his loved one's ever-changing wishes.

In the mood for classic solo mode? Fallin Love features 3 different worlds and an additional difficult Mode, each with 18 levels.

Want immediate action? Survival Mode is for you: try your best not to get killed while collecting loads of hearts.

Feeling social? We got you covered with 5 exclusive levels that will only be unlocked when a certain worldwide amount of hearts has been collected!

FEATURES:

• Beat 70+ levels or try to hold on in Survival Mode
• Think global: the more hearts gathered, the more chances of unlocking social levels
• Superb, colorful graphics
• Learn to master gravity to succeed
• Enjoy discovering the hilarious costumes

REVIEWS:

"I'm loving Fallin Love as the story is cute, the graphics are gorgeous, and the gameplay mechanic is challenging yet addictive"
- AppAdvice.com