The famous Halo experience on iOS
Halo: Spartan Assault
by Microsoft Corporation
watch trailer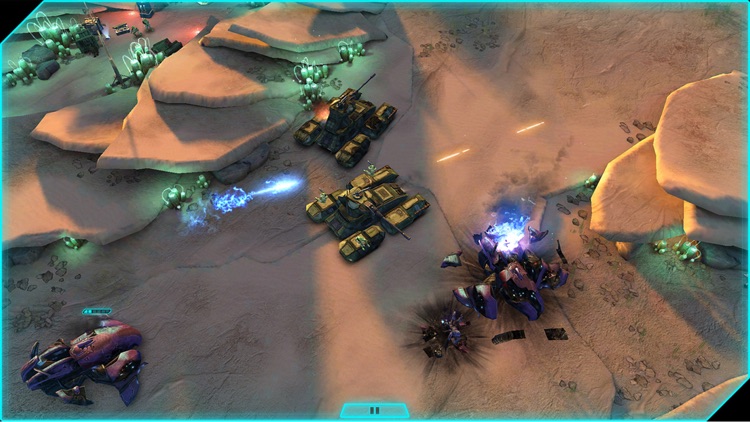 Removed

from the App Store
Halo: Spartan Assault retools the series' first-person action as a beautiful top-down shooter that pits you—one of the legendary armored Spartans—against scores of alien Covenant troops. The excitement's spread across dozens of short missions offering everything from desperate standoffs to tense escort jobs. Fluid controls, familiar weapons, and a compelling new story round out this amazing experience.
The Covenant has invaded. From the outset of the game, you're challenged to survive the fearsome Covenant.
Your favorite Halo characters and weapons. It may be a top-down shooter instead of first-person, but all your favorite Halo characters, weapons, and vehicles are at your disposal.
What is it about?
This game features an epic campaign with 30 action-packed levels in a storyline that takes place just before the events of Halo 4. You'll command many of your favorite Halo weapons, vehicles, and armor abilities, and customize your Spartan to create the perfect warrior. The game allows you to earn achievements, complete weekly challenges for XP and compete against your friends in leaderboards for ultimate bragging rights.
For those who...
Love the Halo franchise
Are fans of top-down shooters
Not for those who...
Don't like shooting aliens
Aren't fans of Halo
Why we love it
Halo: Spartan Assault brings the famous Xbox and PC series to your iOS device. It features a storyline set just prior to the events of Halo 4, and has gorgeous graphics and sound effects. With 30 action-packed levels, Halo: Spartan Assault brings plenty of playtime to your device.
App Store Description
Battle your way through 30 action-packed missions against the Covenant as you explore the origin of the Spartan Ops program featured in Halo 4.

Earn achievements, complete missions and compete against your friends for the top scores in the leaderboards.
It's time to join the assault, Spartan!

Top Features
• Epic campaign featuring 30 action packed levels with a brand new Halo story set just before the events of Halo 4.
• Command many of your favorite Halo weapons, vehicles, and armor abilities, and customize your Spartan to create the perfect Spartan warrior.
• Earn achievements, complete weekly challenges for XP and compete against your friends in leaderboards for ultimate bragging rights