Tracking your working time has never been so beautiful
Hours Time Tracking
by Hours, LLC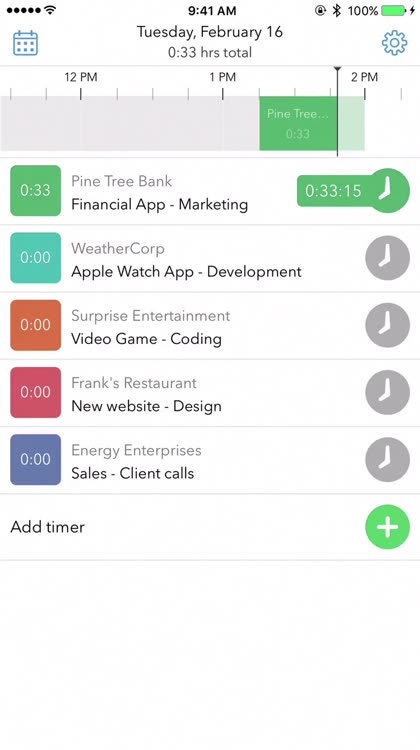 What is it about?
Hours Time Tracking provides a gorgeous interface that you'll love to use. It's super easy to create timers for various projects or jobs, and you start and stop the timer with a tap of a button. The visual timeline is great to look at, and gives you a good idea of where your time goes every day. Over time, as you log your hours, you'll be able to generate incredibly detailed reports to submit to your boss if that's how the system works for you to get paid. The app also has support for smart reminders for those times when you haven't started a timer yet (you tell it when you usually work and stop working), have left a timer go too long, or forgot to switch tasks.
For those who...
Need to track their time and generate reports
Are freelancers or contractors who make money depending on hours worked
Not for those who...
Don't need to track their time
Want to be able to track time with an iPad
Why we love it
If you have multiple projects that you need to track, there's no better app to help you than Hours. It's simple yet powerful user interface will ensure the job gets done.
Hours Time Tracking is FREE but there are more add-ons
$7.99

Hours Pro Subscription
App Store Description
Hours is the time tracker you will actually use.

"The Perfect iPhone Time Tracking App" - Forbes

"Surprisingly pleasant to use…well-thought-out interface" - TechCrunch

"The world's easiest way of tracking your time." - 9to5Mac

Best New Apps - Apple

With a visual timeline, smart reminders, detailed reporting, and an interface crafted by and Apple Design Award winning team, Hours turns a tedious process into — dare we say — an enjoyable one.

Time tracking seems like it should be easy…and it would be, if we were all robots. Unfortunately, humans tend to have problems with

1. Forgetting to track your time in the first place
2. Forgetting to note when you change tasks
3. Forgetting to stop a timer after you start one

So Hours lets you:
• Set smart reminders to nag you at just the right times to start and stop your timers
• Start/stop/switch timers with one tap (now even from the home screen with 3D Touch)
• Use the visual timeline to easily identify and correct mistakes
• Set rounding rules to round time to whatever interval you are used to — 6 minutes, 15 minutes, and more
• Quickly see on a calendar view which days you tracked time and which days you forgot
• Track your time by clients, projects, and tasks if you need to
• Add notes to your time entries
• View on-screen reports in the app, or email detailed CSV or PDF reports
• Sync your time with Hours on the web, where you can track time from your desktop and view beautiful reports
• Now your whole team can use Hours to track, report, and analyze time

Please email us if you have any questions or suggestions to improve the app: [email protected]

--

The Hours Pro subscription, which provides additional reporting options, costs $7.99 per month. The subscription will be charged to your credit card through your iTunes account and will automatically renew unless canceled at least 24 hours before the end of the current period. Though your subscription for the current month cannot be canceled, you can turn auto-renewal off in your account settings after purchase. See instructions here: https://support.apple.com/en-us/HT202039

Privacy Policy: https://hourstimetracking.com/privacy-policy/

Terms of Service: https://hourstimetracking.com/terms-of-service/