Take full control of your writing in a centralized hub
iA Writer
by iA Labs GmbH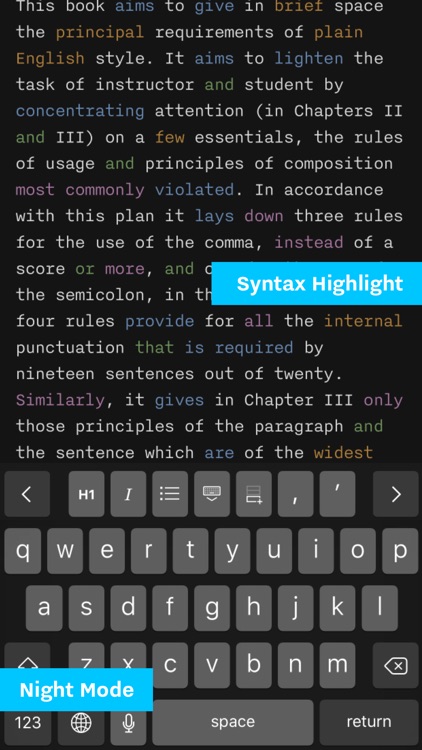 $4.99

in the App Store
iA Writer has been rebuilt from the ground up. Now you have distraction-free writing but also workflows, syntax control, and a separate section for editing. It's a writer's dream come true!
Tons of new features. iA Writer went from a simplistic writing app to a powerhouse. Now you can go through the entire writing process in one app: note-taking and brainstorming, writing, and then editing before finalizing the draft. There is also a useful feature called Syntax Control that has the app scan your entire document and analyzes every part of speech. This way, you can see how many adverbs, pronouns, conjunctions you used, along with everything else. It's a grammar nerd's dream come true.
Configure that keyboard. Change up the keyboard to fit your writing flow. While the original iA Writer was fairly basic and great for distraction-free writing and nothing else, the new iA Writer has a lot of improvements. Now the keyboard extension comes packed with plenty of useful shortcuts, but you can also customize it to how you work. Make iA Writer your own with all of these great new tweaks.
What is it about?
The developers of iA turned heads with the release of iA Writer Pro. This app is another desktop-grade text editor that looks to stand apart from the crowd based on features, workflow, and price. Its big standout feature is the innovative Syntax Control. This scans the syntax of your text. Then it will highlights parts of speech such as: adjectives, nouns, verbs, adverbs, prepositions or conjunctions. iA Writer sets up your writing into three categories: brainstorming/notes, writing, and then editing.
For those who...
Need a powerful app that goes through the entire writing process
Want something powerful but still remains simple to use
Have been fans of the original iA Writer
Not for those who...
Don't need the entire writing process
Prefer a basic text editor
Aren't fans of the complex system and want the classic iA Writer back
Why we love it
iA Writer was a classic plain text editor back in the day, but the developers have really revamped it to become a powerful and complete writer's toolkit. If you're a writer who lives for the process, then this is the text editor for you.
App Details
Last updated
September 7, 2017
Release date
December 18, 2013
App Store Description
"Beautiful and simple" ***** The Guardian
"Everything goes away except for the writing experience" ***** Stephen Fry
"Writer has out-innovated Apple" ***** Fast Company

Best of App Store 2011, 2012, 2014, 2015

# Unmatched Writing Experience
iA Writer is designed to provide the best digital writing experience: Keep your hands on the keyboard and your mind in the text.

# Embed Pictures, Tables and Nest Textfiles
Include images from Library in your documents (.png, .gif, .jpg)—images are uploaded to Medium and WordPress when sharing a draft. Include comma separated value files as tables in your documents (.csv), or create advanced tables using MultiMarkdown. Build a manuscript from several chapters, embed source code files as code blocks, or nest text files into each other.

Note: Embedding only works for files in the same folder (or subfolders) as the master file. You can't embed files in a parallel or higher directory.

# Swipe Right to Library
With a swipe to the right you have easy access to all your texts in one place.

# Swipe Left to Preview
iA Writer consciously separates form and content. It optimizes plain text writing while offering stellar formatted export—with world class typography.

# Customizable Keyboard Bar
Tap and hold Keyboard Bar keys for an extra level of options. Continue holding to rearrange your keys, and tap to customize.

# Focus Mode and Syntax Control
iA Writer is famous for offering a deeper focus on your text. Its unique tools improve your writing style by honing your concentration: One sentence at a time, or by highlighting different parts of speech.

# All Your Documents on All Your Devices
With seamless Dropbox and iCloud sync, iA Writer keeps your documents safe and at hand on whatever device you are using when inspiration strikes.

# Features
- Configurable Keyboard Bar
- Convert formatting to Microsoft® Word .docx, and back again
- Also export formatting to HTML and beautifully styled PDF
- Share to WordPress and Medium
- Synchronized scrolling Markdown Preview
- Beautiful Preview templates with curated fonts
- Real-time iCloud and Dropbox sync
- Focus Mode fades all but the current sentence, for maximum concentration
- Full-text search for iCloud documents
- In-document Find and Replace
- Auto Markdown formats text on-screen
- Night Mode
- Reading Time; plus sentence, word, and character count
- Customized for Retina displays
- Handoff support

# Contact
- Visit ia.net/writer for more information
- Visit ia.net/writer/support for support and feedback
- Let us know what you think on Twitter @iAWriter


We look forward to hearing from you…
— Information Architects Inc.