New challenges await John Gore in the form of the undead in this smash hit
Minigore 2: Zombies
by Mountain Sheep
watch trailer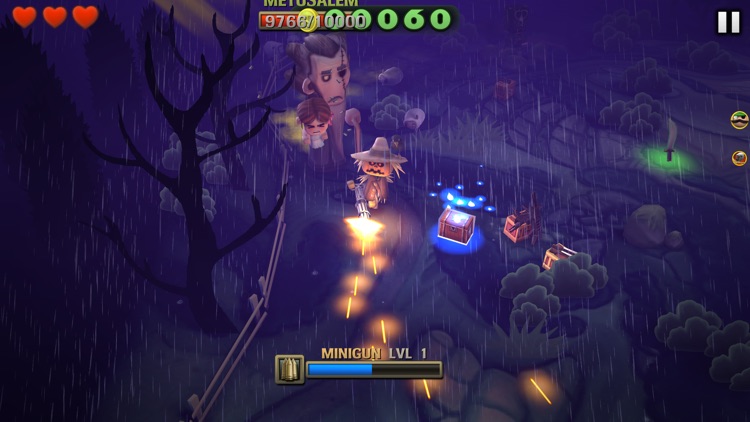 $1.99

in the App Store
The furries are gone and a new threat is emerging from the dark corners of Hardland. You must help John Gore fight his way through sunny lakes, graveyards and freezing plains into a stormy forest where the legendary Metusalem has brought to life murderous chefs, giant lumberjacks, killer penguins, a single moose, three hundred rabbits and the entire undead army of the Cossack General. Will you survive?
Over The Top Action. Face off against tons of zombies, and blast them away for as long as you can. There are multiple zombie types, environment backdrops, and weapons.
Try Alternate Modes. Arena mode offers an endless high score challenge with global leaderboards. There are eight different environments in total.
Big Boss Battles. You're not just facing endless waves of zombies. There are big boss battles to defeat in each of the environments.
What is it about?
Minigore 2: Zombies is thrilling action challenging you to defeat hordes of the undead. The furries might be gone, but that doesn't mean life has returned to peace and quiet in Hardland. The legendary Metusalem has brought a new threat out of the dark corners of the realm, and John Gore fights madly to eliminate these undead armies. Minigore 2 features adrenaline-pumping action and terrific two-stick controls, and the action is over the top.
For those who...
Enjoy all-out mayhem
Love competing for high scores
Not for those who...
Prefer casual gaming
Are deathly afraid of the undead
Why we love it
This game has cute graphics, but at its core is heart-throbbing action. If you are up to the challenge of taking on hordes of the undead in a two-stick shooter, this game is certain to please. You'll find yourself moving faster and faster as you try to keep up with all of the murderous undead beasts coming at you.
Minigore 2 is $1.99 but there are more add-ons
$1.99

Double The Income

$4.99

Unlock All Weapons

$9.99

Unlock All Characters
App Store Description
Minigore 2 is a dual-stick shooter masterpiece with over 6 million players worldwide!

The furries are gone and a new threat is emerging from the dark corners of Hardland.

You must help JOHN GORE fight his way through sunny lakes, graveyards and freezing plains into a stormy forest where the legendary METUSALEM has brought to life murderous chefs, giant lumberjacks, killer penguins, a single moose, three hundred rabbits and the entire undead army of the COSSACK GENERAL.

Will you survive?


"One of the best action games on the App Store and the new mobile twin-stick shooter gold standard." - IGN

"Minigore 2 feels like a true sequel that has improved upon the original in every way." - Toucharcade

"Minigore 2: Zombies is everything we expected, an intense, over-the-top bloodbath." - GameTrailers

"Minigore 2: Zombies is an instant classic. The endless list of unlockable weapons, characters, and items is more than enough to keep you going. The battles with enormous armies of zombies are full of excitement and fun, and the game maintains a humorous tone." - Slide to Play

"It's fantastic fun." - The Guardian


FEATURES:

- iOS CONTROLLER SUPPORT
- 300 AWESOME CHALLENGES
- 20+ PLAYABLE CHARACTERS featuring guest stars such as Bike Baron, Zombieville USA and Hook Champ!
- 60 DIFFERENT ENEMIES
- 7 UNIQUE BOSSES

- COLLECT LOOT TO BUY UPGRADES & ITEMS IN THE MERCHANT'S WAGON

- MELEE & RANGED combat with over 10 weapons!
- COMPANION & BEAST GAMEPLAY for each playable character
- PROCEDURAL ANIMATION brings zombie reactions to a whole new level
- PROPRIETARY ENGINE capable of showing 150 zombies on the screen at once
- RANDOM PATTERNS guarantee the fights never feel the same
- CINEMATIC LIGHTING that looks great on latest devices!
- UNIVERSAL BUILD

Find us on Facebook: http://www.facebook.com/MinigoreFanPage