Pixel Boat Rush is a frantic boat combat racing game

Pixel Boat Rush
by XperimentalZ Games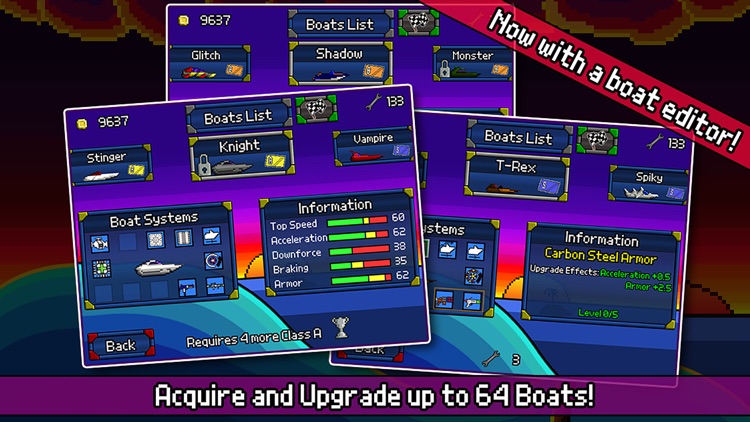 What is it about?
Pixel Boat Rush is a frantic boat combat racing game! An easy to learn, hard to master, fun arcade racing game with loads of content! Featured by Apple countless times!
Race. Touch the right side of the screen to accelerate across the choppy waters. It's in your best interest to stay close to the water, but you will need to utilize waves to clear obstacles.
Race and destroy. Pixel Boat Rush requires you to not only race but also destroy your opponents.
Race and destroy. The left side of the screen is devoted to your weapons and defenses, which can be upgraded along the way.
Acquire and upgrade up your boats. You can buy new and upgrade your boats
Pixel Boat Rush is $1.99 but there are more add-ons
$1.99

Small ToolBox

$1.99

Valhalla Pack

$4.99

Large Toolbox

$1.99

Small Treasure Chest

$4.99

Large Treasure Chest
App Store Description
Pixel Boat Rush is a frantic boat combat racing game! An easy to learn, hard to master, fun arcade racing game with loads of content! Featured by Apple countless times!

The gameplay mixes a one-touch racing mechanic with 2 weapon/defensive buttons. The progression features an in-depth career mode with RPG-like humoristic conversations with parodic characters, an endless mode and a boat crafting editor!

----------------------

One-Touch Racing Mechanic:

Touch to accelerate, release to brake. Slow down on a wave to stick to it (bind speed requirement depends on the boat downforce, sometimes you have to slow down more). If you keep the gas pressed, you'll jump off the waves. You can stick to water before the wave begins, but if you re-accelerate on a straight line, you'll un-stick.

Releasing the gas while in the air will make you fall faster.

Obstacles and Power-Ups:

If air drag makes you quicker by staying on water, sometimes it's best to jump. It could be for grabbing a power-up, avoiding an obstacle or a tricky set of waves.

Combat:

Fighting with opponent brings a whole new dimension to the game. It not only adds action, but also tactical aspects, which quickly becomes a key for victory. For instance, slowing down to get behind an opponent to avoid being hit and let him deplete his bullet on another boat.

Additional Tip:

- The acceleration button covers the whole right side. You can touch the bottom edge of the screen to avoid covering the action.

------------------
Reviews and Awards

- Featured by Apple on numerous occasions!

- (4.5/5) Touch Arcade "I'd strongly recommend it to anyone who enjoys side-scrolling arcade games or can appreciate a different angle on the racing genre"

- (4.5/5) App Advice "perfect for anyone who enjoys boat racing and fast-paced, frenzied arcade games"

- (4/5) 148Apps ''Pixel Boat Rush's unique blend of mechanics make it an excitingly original racing game''

- (4/5) Indie Game Reviewer ''This is a iOS racing game that gets so many things right. It's simple but complex, it's challenging but fun, Pixel Boat Rush is a great game that I highly recommend''

- (3.5/5) Pocket Gamer ''A surprisingly sharp and clever racer, Pixel Boat Rush is well worth diving into''

- (4.5/5) TheAppleGoogle "more than enough to guarantee players hours of intense high speed action in an electrifying experience"

-(4.25/5) Reviewed on the Reviews on the Run TV Show!!

-----------------

More Features:

- Career, endless and arcade modes
- 15 racing tracks
- 116 racing events across 7 types of race (normal, ceasefire, eliminations, demolition, carnage, last man standing, endurance)
- 20 Licenses: series of mini-quests which unlock the next racing categories
- 64 racing boats, each with its own specific upgradable configuration: find which boat is best suited for each event!
- A boat editor with 3 custom hangars where you can craft your own boat creations!
- Over 28 types of guns
- 4 racing categories: climb the ladders and become the world champion!
- Power-ups: boost, ammo, shield, coins, repair
- Time trial mode against your best ghosts
- Trophies system for replay value: finish first in all races to collect all gold trophies
- Game Center: leaderboards (based on best lap time and trophies earned) and achievements
- Cloud save with manual upload/download and 3 save files
- MFI and other controllers support
- Rich original retro soundtrack
- Live broadcasting