Keep track of your favorite spots in the city
Rego Pro: Bookmarks for places
by MakaluMedia Inc.
$14.99

in the App Store
Rego is a powerful and comprehensive app that lets you mark your favorite spots while exploring the city.
Add photos to your guide. Rego is like your own travel guide. Keep track of your favorite places and make sure you remember them with photographs. Just search for the place you want, then add it to a collection or folder, give it a note, and then choose photos to add. There's no limit on how many photos one place can have, so make sure to load up to show off next time when you're in the city.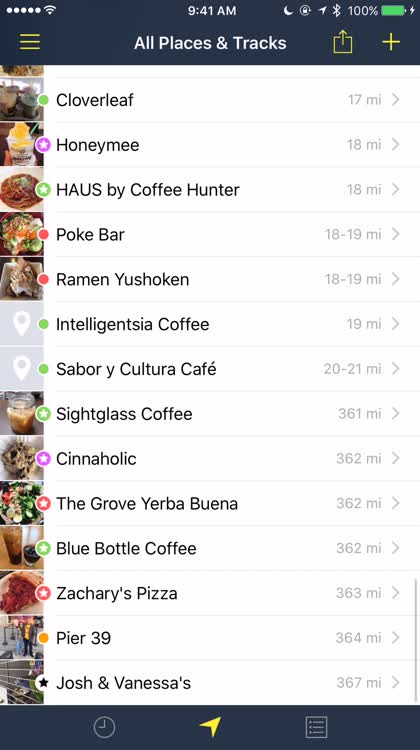 Track your favorites. Rego is an excellent app to help you track your favorite spots for referring back to later, or when you want to show someone a place you like to go to. Rego keeps all of your spots neatly organized by distance in the list, and you can see everything as pins on the map. Find a spot and tap on it to check your photos and notes, as well as get information like address. It's a great way to organize the places you've been to.
What is it about?
Rego is a powerful little app that lets users keep track of their favorite spots in a city on a map or in a list view. This is a great way to remember those spots and even store photographic memories or notes for future reference. You can create collections and color-code everything for easy recognition. Another purpose for Rego is to keep track of routes, in case you want to take the scenic path again or share it with others. And if you're worried about your data, don't worry — there's a way to export everything so you can just import it again later if you have to replace your device. No matter what you see or where you have gone to, Rego is a great way to keep it all together in one place.
For those who...
Like to keep track of where they've been
Want to keep a list of favorites to share whenever it's needed
Like to reference things later
Not for those who...
Don't go out a lot
Don't care to remember where they've been
Use a journaling app to track this information
Why we love it
Rego is a slick app that is easy to use and provides users with a ton of handy features for remembering their favorite spots.
App Store Description
Rego is everyone's favorite app for keeping track of places and routes.

From travelers planning and journaling their adventures, to backpackers navigating the trails, to real estate agents tracking properties, to photographers tracking shoot locations—thousands of people around the world use Rego to keep track of where they've been, where they are, and where they want to go.

Buy it today, or learn more at regoapp.com.


REGO FEATURES:

- Add places based on your current location, search, coordinates, contacts, photos, importing from the Rego website or "sharing" from Photos.app.

- Add routes by importing GPS files or by downloading from internet links.

- Organize your places and tracks into collections and folders.

- Highlight your places and tracks with pin colors and favoriting.

- Add photos and notes to your places and tracks.

- Navigate within Rego, or external apps like TomTom, Google & Apple Maps, Navigon, Waze or HERE Maps.

- Share places and tracks with others via email, message, WhatsApps and more.

- Backup and restore your data securely with Dropbox.


HOW PEOPLE USE REGO

- Travelers use the search and discovery tools at the Rego website to plan their trips, and import those places into Rego. Then while traveling, they use the maps and pins to get around, discover new places and capture memories in photos and notes.

- Hikers load Rego with the tracks they plan to walk, and then use Rego to select nearby routes and to stay on course.

- City dwellers use Rego to bookmark local cafes and restaurants, starring their favorites and putting those with wifi in a custom collection.

- Photographers use Rego to bookmark and review potential photo shoot sites with customers.

- Real estate agents use Rego to bookmark their listings, complete with reference photos and notes.

- And those frustrated with Foursquare are switching to Rego en masse! :-)


Brought to you by Makalu Interactive
www.makaluinc.com