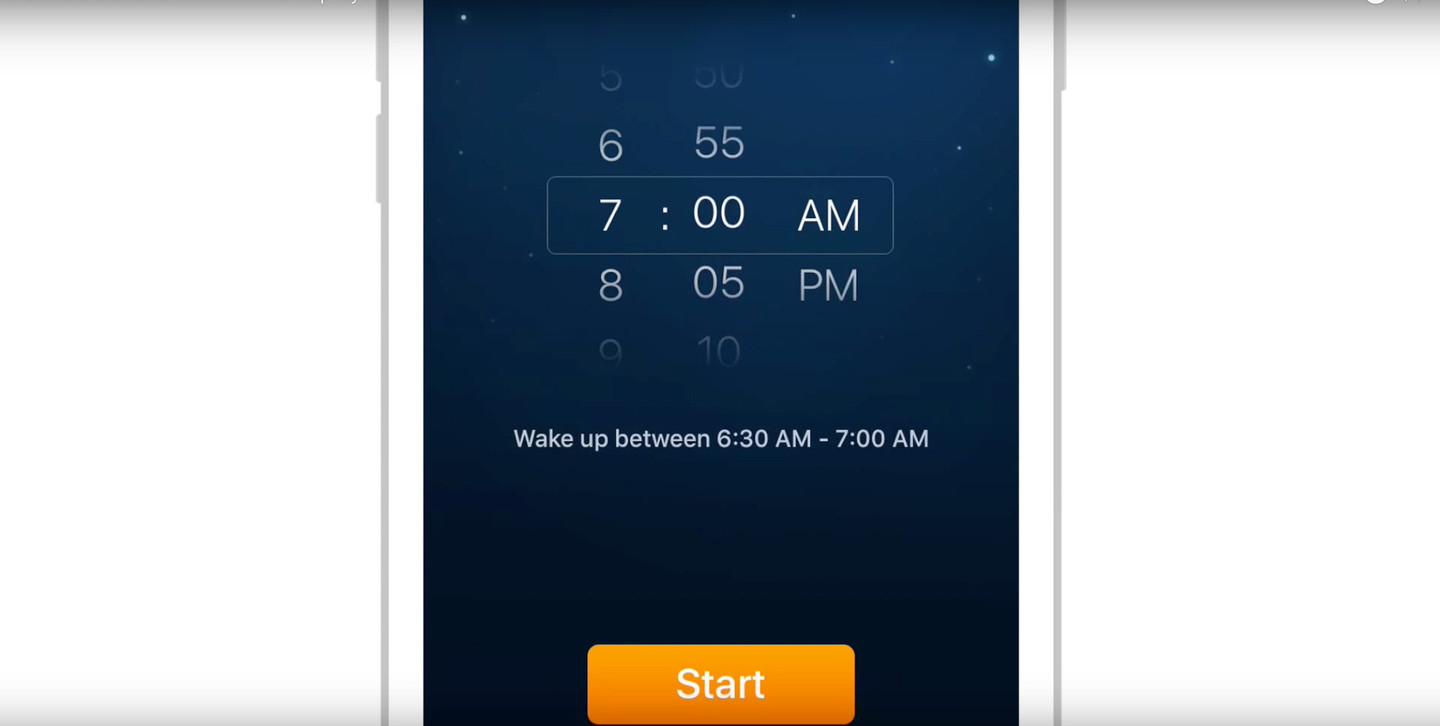 Make your mornings better
Sleep Cycle alarm clock
by Northcube AB
FREE

in the App Store
Sleep Cycle is an alarm app that will analyze your sleeping patterns and chooses your lightest sleeping phase to wake you up. This leads to you feeling more rested and relaxed.
What is it about?
Sleep Cycle is a powerful and intelligent alarm clock app that uses the microphone or accelerometer to analyze your sleeping patterns based on sound or movement throughout the night. This is important because the app will determine when you are in your lightest phase of sleep and wake you up within a 30-minute window of your alarm time so you wake up feeling more refreshed and relaxed, rather than groggy and frazzled. Over time, the app will give you detailed graphs and stats regarding your sleeping patterns, so you can try improving it.
For those who...
It's for those who aren't morning people.
Not for those who...
If your bedroom isn't set up just the right way, none of this is going to work. You're going to need the ability to charge your iPhone by your bed and place it according to the instructions.
Why we love it
If you feel groggy every morning, give Sleep Cycle a try. Its detailed sleep statistics will help you figure out how to improve your sleep quality.
Sleep Cycle alarm clock is FREE but there are more add-ons
$1.99

Premium

$9.99

Premium

$29.99

Sleep Cycle Premium

$23.99

Premium

$4.99

Premium

$10.99

Premium

$2.99

Premium

$14.99

Premium

$1.99

year SleepSecure membership

$6.99

Premium
App Store Description
Waking up made easy.

An intelligent alarm clock that analyzes your sleep and wakes you in the lightest sleep phase – the natural way to wake up feeling rested and relaxed. No need to place your device in bed - Sleep Cycles uses sound analysis sleep tracking.

Sleep Cycle helps millions of people all around the world wake up rested.

Continuously rated as the best smart alarm clock on the market. Featured in: CNN, Wired, The Guardian, The Wall Street Journal, BBC, The New York Times.

#1 Top Paid app in United States
#1 Top Paid app in United Kingdom
#1 Top Paid app in Japan
#1 Top Paid app in Germany
#1 Top Paid app in France
...and more.

* Our patented technology monitors your sleep movements using sound or vibration analysis.

* Sleep Cycle then finds the optimal time to wake you up during a 30 minute window that ends at your set alarm time.

* Recommended placement: Near the bed or on the floor.

As you sleep you go through different phases, ranging from deep sleep to light sleep. The phase you are in when your alarm goes off is critical for how tired you will feel when you wake up.

Since you move differently in bed during the different phases, Sleep Cycle can use the microphone or accelerometer in your iPhone to monitor your movements and determine which sleep phase you are in.

Sleep Cycle wakes you when you are in your lightest sleep phase.

Sleep Cycle was developed using proven sleep science and years of research and development.

--------------------------

MAIN FEATURES

FREE

√ Sleep analysis with our patented sound analysis technology or if you prefer, the sensitive accelerometer in your iPhone

√ Detailed sleep statistics and sleep graphs

√ Carefully selected alarm melodies

√ Snooze by shaking or double tapping the phone lightly

√ Snore detection - detect, track and measure your snoring

√ Fully integrated with Apple Health. Exchanges sleep analysis and heart rate

√ Customizable wake up window. From instant (regular alarm clock) up to 90 minutes

√ Background mode - set your alarm and exit Sleep Cycle - sleep analysis will continue in the background

√ Support for the M7 and M8 co-processor - measure your daily physical activity and see how it affects your Sleep Quality

√ Export sleep data to Excel for detailed analysis


PREMIUM

√ Online backup - secure your data online to make sure it's always with you

√ Long term trends - compare your sleep with the world

√ Snore trends - view historical snore trends data

√ Sleep aid - helps you fall asleep faster

√ Sleep notes - see how events such as drinking coffee, eating too much or having a stressful day affect your sleep quality

√ Wake up mood - see how using Sleep Cycle affects your morning moods

√ Weather - see how weather affects your Sleep Quality

√ Heart rate monitor - measure your resting heart rate (RHR) every morning using the built-in camera in your device

√ Philips HUE light bulb support - simulate a natural sunrise to give you an even softer wake-up

and more

-------------------------

REQUIREMENTS
Ability to charge your phone by the bed.
Ability to place your phone near the bed, such as on a nightstand table or on the floor.

-------------------------

The optional Premium subscription costs $29.99 per year.

It will be charged from your iTunes account after the purchase. You can manage or cancel your auto-renewable subscription by entering the user settings in iTunes after the purchase. The subscription will be auto-renewed 24 hours before the subscription period ends with the same kind of subscription you already bought to the same price. It's not possible to abort the subscription during the time it's active. Terms and Privacy: http://www.sleepcycle.com/terms-of-use.html