This notepad calculator handles anything you can throw at it
Soulver - the notepad calculator
by Acqualia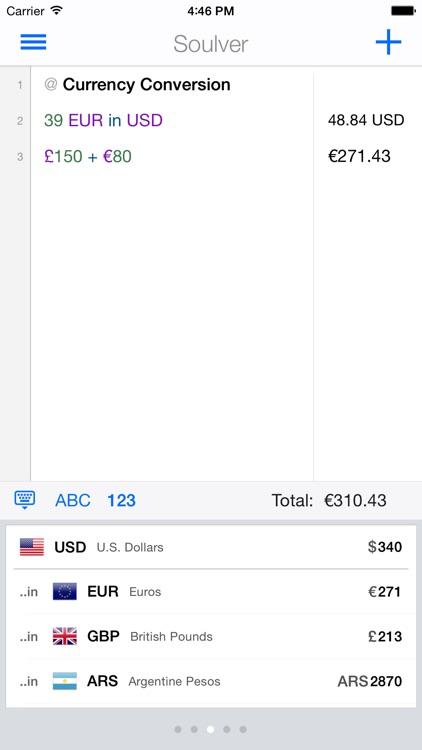 Your calculations filed away. Soulver lets you save all of your calculations so that they're never forgotten. New sheets will be saved as drafts so you can access them locally, or you can save your calculation sheets as files in your iCloud or Dropbox. This lets you access these notepad calculations from other iOS devices, as well as on your Mac with the Soulver Mac application.
Ultimate notepad. Soulver is the notepad that is designed for everyone. With Soulver, you can do anything, such as solve basic or complex equations for school, figure out your expenses or interest rates, find out how much you'll save on that sale, convert currency, and much more. No matter what you need, Soulver has your back with the large variety of available functionality and keyboard options.
What is it about?
Think of Soulver as a text editor calculator. With Soulver, you can do anything from quick calculations to figuring stuff out, such as your business expenses for tax season. Just type out your problem and see the answer as you type. Soulver has several different keyboards that you can choose from, including a basic calculator, the traditional iOS keyboard, scientific, currency, and more. Each calculation you do can be saved as a file in iCloud or Dropbox, so you can access it from multiple iOS devices or even on the Mac. There are quick functions like using the previous lines total in the next line, and more. Soulver is an invaluable tool for anyone who needs to figure out expenses or calculations on a daily basis.
For those who...
Need to figure out problems that involve calculations
Are always trying to calculate on notepads
Want to work with numbers in a text editor-style interface
Not for those who...
Don't need to figure out a lot of mathematical stuff in life
Never use notepads for calculating
Want a traditional calculator
Why we love it
Soulver has proven to be an invaluable tool for many of us, as it's perfect for figuring out expenses and other problems that require some calculation.
App Store Description
Soulver is a revolutionary calculator replacement app. Its powerful UI lets you do calculations over multiple lines, and use can also use words alongside numbers, so that they make sense.

Soulver is great for back-of-the-envelope calculations, currency conversions while travelling, working out percentages, calculations involving changing variables, and much more.

Soulver supports Dropbox & iCloud syncing, and is also available for macOS.

WHY IS SOULVER BETTER THAN A STANDARD CALCULATOR?

- Instant answers as you type (no need to use equals!).

- Spread your calculations over multiple lines (so your brain doesn't explode).

- Reference previous answers in your current line (kind of like a mini-spreadsheet).

- Annotate numbers with inline labels (you'll thank yourself later when you read them back!).

- Do percentage calculations using natural phrases "15% off $350" (has support for 9 different percentage phrases).

- Supports over 150 currencies (including Bitcoin), and has a specially designed currency keyboard for quick conversions.

- Custom variables across all your documents, and a special keyboard for quick access to them.

- All standard math and programming functions, also available on specially designed keyboards.