Super Powerboy is a Breathtaking Pixar-Like Platforming Adventure

Super Powerboy
by Super Powerboy Limited
watch trailer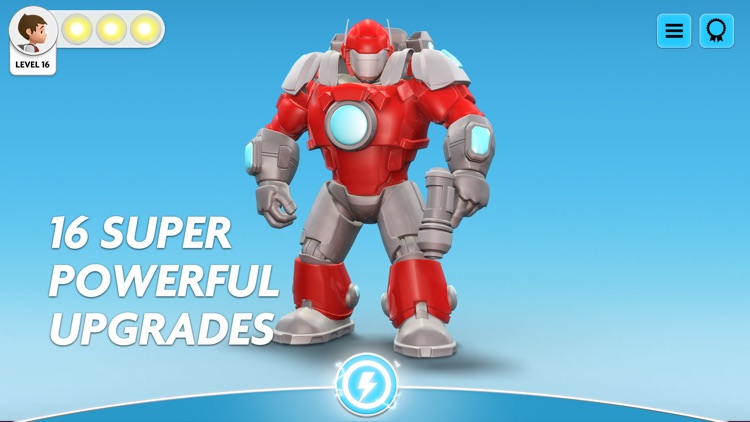 Time those attacks. Since Super Powerboy is an auto-runner, you're going to need to time your jumps, slides, and punches carefully. Your armor will protect you from a hit or two, but you still have to be careful.
A beautiful world. Super Powerboy features beautiful, polished graphics that will make you think of Pixar. The game has gorgeous environments and character models, the soundtrack is amazing, and the sounds are splendid. The controls are simple to pick up too.
Great upgrades. As you collect power orbs, you'll be able to level up and unlock powerful new upgrades for your character. Use these to tackle the toughest foes and navigate through the environment!
What is it about?
Super Powerboy is a auto-running platformer game that is reminiscent of Mega Man titles.
For those who...
Like platformer games and don't mind auto-running aspect
Enjoy stunning graphics and captivating music
Want a fun but challenging game
Not for those who...
Don't like auto-runners
Want a hardcore gaming experience
Don't like a challenge
Why we love it
The game is beautiful, the audio is amazing, controls are simple to pick up on, and the levels are challenging and fun. It's a great homage to Mega Man and even Pixar.
App Store Description
Aliens have invaded our planet with a fiendish plan to plunder the Earth! The only one who can stop them is Super Powerboy! He can't do it alone though, will you help him defend our valuable natural resources from these planetary pirates?

"One of the best games to hit mobile in the past few months." - Pocket Gamer

"Perfect for any age person, kids all the way up to adults" - Apple 'n' Apps

"Probably closer to the excellent Rayman Run series than any of the more generic runners you'll find on the App Store, and that's no bad thing." - PocketGamer

"A real pleasant surprise I think this is going to be a big hit, especially with families." - AppAddict.net

"A mixture of the best parts of mobile and the best parts of the mid-'90s platforming scene" - Pocket Gamer

Features:
• Super upgrade system - experience an evolving character move set
• Explore 45 handcrafted missions set across 5 distinct locations
• Beautifully designed characters and environments
• Progressive touch based gameplay
• Original music and audio (headphones recommended!)
• Try and master each mission by completing all the goals
• Original & unique world setting
• Game Center achievements & Leaderboards
• Super Powerboy is a premium game with no ads or in-app purchases