$2.99

in the App Store
Bean Dreams has you jumping your way across platforms collecting fruit and other items while avoiding obstacles and enemies. As the bean continues to jump, you just tap left and right to move it through the scene. The game has 30 achievements and 18 leaderboards in Game Center, iCloud support, and over 70 stages to master.
Minimize Jumps. Bean jumps automatically, and you simply slide your finger on the touch pad to control Bean's direction. Your goal in each level is to minimize the number of jumps needed to reach the finish.
Find The Axolotl. There's a hidden character known as the axolotl in each level. It's a pink little dinosaur that is usually in hard to reach places.
Chili Power. Eat the chili to gain the ability to fire through walls.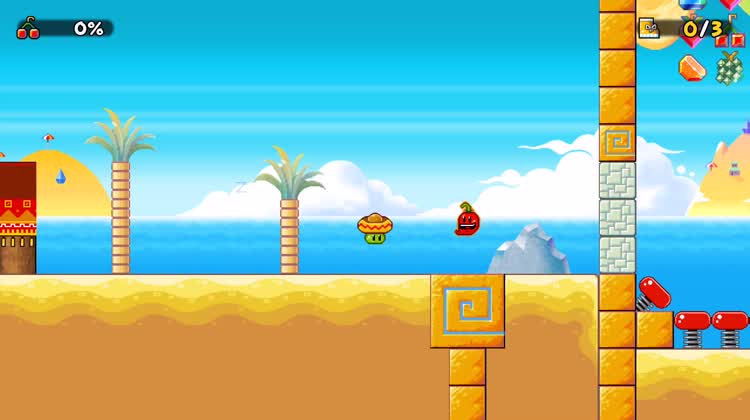 Interactive Environments. Use the environment to your advantage to meet each objective.
What is it about?
Bean Dreams is a fun and exciting platformer for iOS. With more than 70 different stages across 13 different dreamy worlds, the game distills the popular genre into one simple element: jumping. You'll simply move left or right and attempt through each stage with beautiful art and a wonderful soundtrack.
For those who...
... are fans of platformers. ... are looking for a family-friendly game that looks great.
Not for those who...
... are looking for an intense experience.
Why we love it
Bean Dreams not only takes you through colorful, vibrant environments, but has quirky, upbeat music to go along with it. While the levels are challenging, they are not impossible, making the game enjoyable. If you like platformers then the easy controls, fun theme, and intuitive gameplay for Bean Dreams might be just the right mix for you.
App Store Description
Get ready for the mobile platformer that literally plays like a dream.

Bean Dreams is an action-packed platformer from the dream team that brought you Duet and Bean's Quest.

Its deceptively simple interface keeps you in complete control while all-new game features, gorgeous retina graphics, funky music and 60 stages will bounce you to new heights!

5/5 - Touch Arcade
5/5 - Gamezebo
5/5 - App Advice

"One of those games I love so much it's hard to express properly in words." -- Touch Arcade

"Bean Dreams is basically Super Mario for your iPhone." -- The Verge

"A must-have for your iOS device" -- App Advice

"Stands toe to toe with anything from arcade gaming's golden age." -- Gamezebo

"The best thing about Bean Dreams, though, is the tightness in its design." -- 148 Apps

"Outstanding Level Design." -- Apple 'n' Apps

PERFECT GAMEPLAY

We distilled the platformer genre to its most pure element -- jumping -- and built a modern user interface that taps into the heart of that. Just touch left or touch right… it couldn't be simpler!

A MASSIVE ADVENTURE

Over 70 hand-crafted stages await you across 13 unique dreamy worlds. Every world has a specific, gorgeous art-style and soundtrack from acclaimed composer Flashygoodness.

- Backflip off enemies and launch yourself from springs in the Fortune Forest!
- Dive and swim through the aqueducts of the Bath House!
- Find the magic chilli and unleash your full power in the Beach Bazaar!

READY, STEADY, JUMP!

Forget 'speed runs'... get ready for 'jump pars'. You can complete stages in a minimum number of jumps to earn bronze, silver and gold medals. When you finish a stage your jumps will be tallied up so every jump will count -- literally!

THANXOLOTL

Either locked away, hard to reach or hidden in a secret passage… your pet axolotls are scattered across your dreams! There's one in each stage to be found and some fruit to feed them too!

GRACEFUL DESIGN

Using beautiful graphical effects we subtly enhance the visuals and push the pixel retina limits of the latest devices while intelligently easing everything back for earlier devices. The result is a consistent 60 frames per second that's crucial for the best gaming experience. Supports iPhone 3GS, iPad 1st generation, iPod 3rd generation and above.

FULLY FEATURED

- Full iCloud support - sync your progress across all your devices.
- Universal App - play on your new iPhone, iPod touch, iPad and iPad mini.
- Compete with Game Center on the jump par leaderboards.
- Full MFi controller support.

ABOUT KUMOBIUS

Bean's Quest started our studio's journey in the world of games. We made three games over three years and we came a long way. With Bean Dreams we have come full circle, revisiting our first game world and pouring into it everything we have learned about mobile game design; it's a massive new adventure for everyone.

SUPPORT

Say [email protected] we'd love to hear from you! And follow us on Twitter: @kumobius