Join Rick, Daryl, Michonne and other iconic characters from AMC's The Walking Dead in the official mobile game of the show
The Walking Dead No Man's Land
by Next Games Oy
watch trailer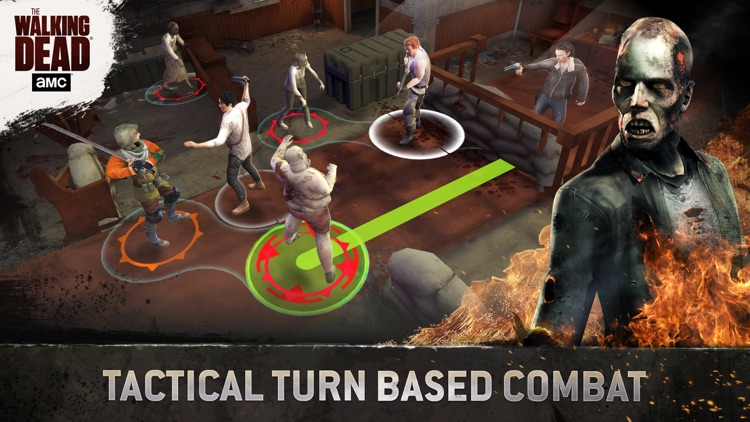 What is it about?
Join Rick, Daryl, Michonne and other iconic characters from AMC's The Walking Dead in the official mobile game of the show. Do you have what it takes to survive the zombie apocalypse of TWD: No Man's Land?
Great for Walking Dead fans. Visit places that come directly from the show itself.
It's your turn to kill zombies. No Man's Land turn-based combat lets you strategize the best way to kill the walkers.
The Walking Dead No Man's Land is FREE but there are more add-ons
$1.99

Full Gas for next 24 hours

$2.99

Fresh Survivor Bundle

$4.99

Pile of Gold

$2.99

Double XP for next 24 Hours

$9.99

Event Bundle Offer

$9.99

Pocketful of Gold

$4.99

Small Radio Bundle

$14.99

Event Bundle Special Offer

$19.99

Medium Radio Bundle

$7.99

Knockout Bundle
App Store Description
Join Rick, Daryl, Michonne and other iconic characters from AMC's The Walking Dead in the official mobile game of the show. Do you have what it takes to survive the zombie apocalypse of TWD: No Man's Land?

The Walking Dead: No Man's Land is a thrilling, action-packed RPG where tactical choices make the difference between life and death. Only the strongest will survive so choose your team wisely: bring Michonne and dominate in close-quarter combat or send Rick to dispatch enemies from afar. Or perhaps you'll choose to snipe from a distance with Daryl's crossbow, or mow the herd down with Abraham's assault rifle.

• FIGHT through hordes of deadly enemies in tactical turn-based combat
• COLLECT and upgrade your favorite characters from AMC's The Walking Dead
• CHOOSE the right team and the equipment for each mission
• HUNT walkers in Terminus, The Prison and other familiar locations from AMC's The Walking Dead
• JOIN other players in deadly weekly challenges and PVP combat for exclusive rewards

"Throw in some pretty swish graphics, lovely animations and blood splatters, and you have one of the most carefully fleshed out zombie games we've seen on mobile. It looks lovely, and plays great too." - Pocketgamer

"Each aspect of survival on AMC's The Walking Dead has been parallel to the series' official mobile game, subtitled No Man's Land." - Mashable

"Imagine your favorite mobile base-building strategy game, mix in a dash of XCOM, and then paint on a fresh coat of AMC's The Walking Dead. That's No Man's Land in a nutshell." - Gamezebo

For more, please visit:

http://www.facebook.com/thewalkingdeadnomansland
http://twitter.com/twdnomansland
http://www.thewalkingdeadnomansland.com
http://www.youtube.com/nxtgms

For player support, please visit:
nextgames.helpshift.com