Stay up to date on your favorite teams and sports.
The Trade Rumors app delivers every piece of news and rumor for the MLB, NFL, NBA, and NHL. The app has the quickest news updates for trades, free agent signings, draft picks, suspensions, coaching changes, and more.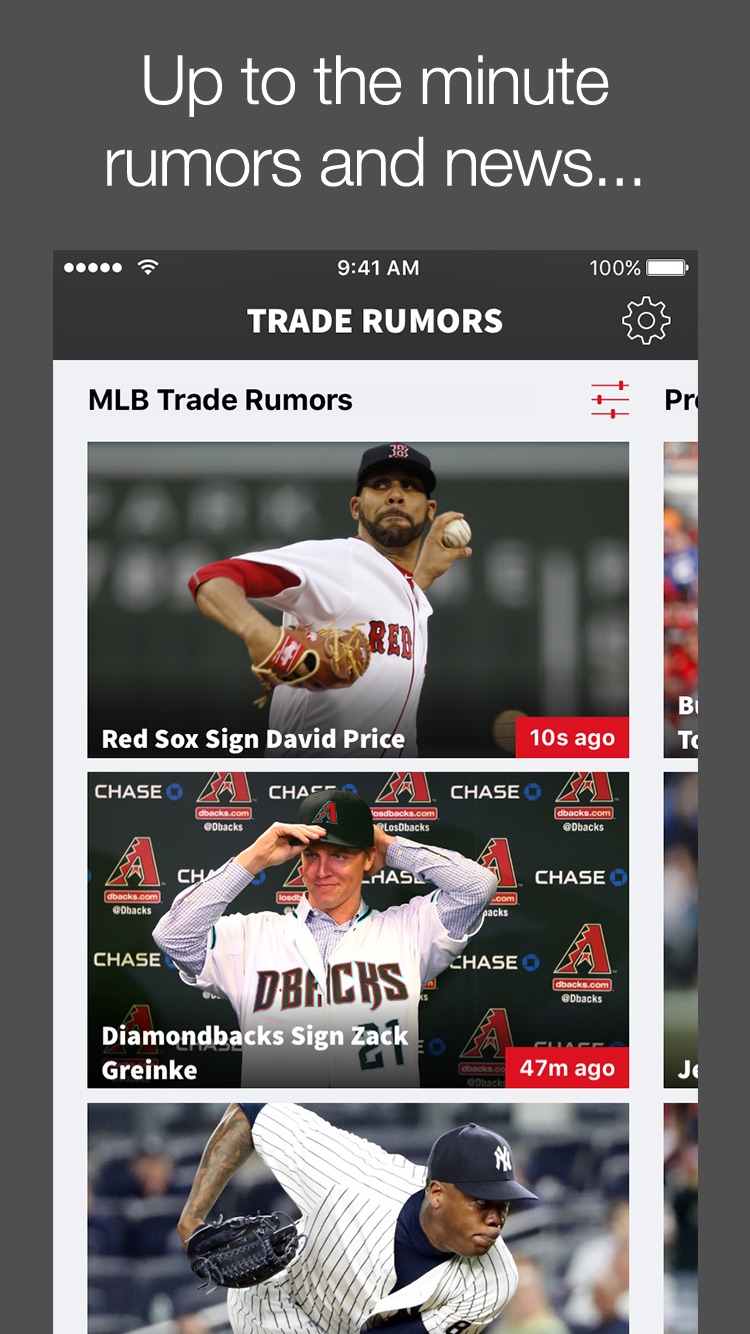 What is it about?
Trade Rumors presents a scrolling column for each major sports league. You can customize the view to view from one to four leagues, or just highlight stories for your favorite team(s). The app is constantly updated with news with the entire calendar year filled with news from at least one of the sports.
Why we love it?
There are many sports apps, but Trade Rumors distinguishes itself by gathering everything. Other outlets like to focus on their own sources. Trade Rumors reports news and rumors from local beat reporters to national outlets, and everything in between.
App Details
Release date
October 20, 2014
Last updated
November 16, 2016
It's for you if
Love sports
Enjoy the off field team building
But not for you if
Are not sports fans
Just want the scores
App Store Description
When the major outlets aren't getting you breaking baseball, football, basketball, and hockey news fast enough, you need the Trade Rumors app! This is what actual GMs, players, and agents are using to get news first. Players often find out about their own trades first through us! You simply can't find anything else in the App Store that matches our standards of quality and timeliness in sports news. Now with push notifications and comments!

Features:

- News feeds for baseball, football, basketball, and hockey are loaded by default using content from MLBTradeRumors.com, ProFootballRumors.com, HoopsRumors.com, and ProHockeyRumors.com. Quickly scroll through left-to-right and tap on an image to read the article.

- Enable push notifications on any news feed and never miss a breaking story.

- Join the discussion! Discuss the breaking news with other users.

- Add news feeds for any combination of the 122 pro baseball, football, and basketball teams.

- Add news feeds for almost any player in these sports; thousands in all. This makes it easy to stay on top of your favorite players and trade/signing candidates as the rumors swirl.

- Filter any news feed to show only the top stories, if you prefer to see just the most crucial news. Reorder, add, or remove feeds based on whatever is most important to you.

- Tap on an article in one of your news feeds and swipe through all the articles in the feed without going back to the home page.

- Share articles through Twitter, Facebook, email, and text messages, and more.
Get it for

FREE

in the App Store