Rearrange columned letters to discover words to crossword style clues.
Typeshift
by Zach Gage
watch trailer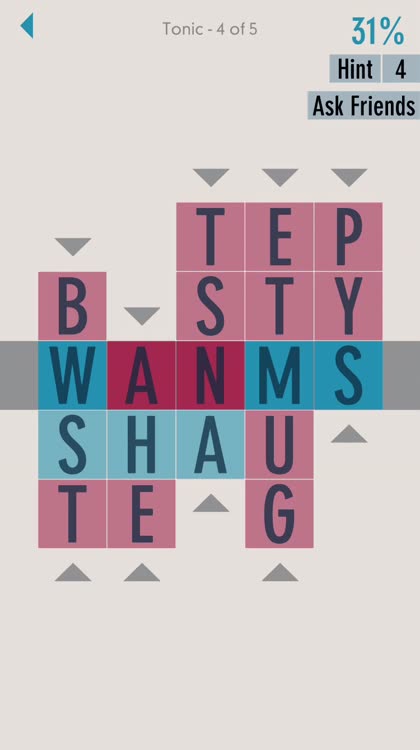 FREE

in the App Store
A brand new word game style from the maker of SpellTower. You need to shift columns into place to try to form words from the grid of letters. There are two ways to play with a word finder as well as a crossword puzzle style solver.
Spell the words. Slide the columns of letter tiles to spell out words in the center row. Repeat the process until all letters have been used at least once. It's a fresh new take on your typical anagram word game.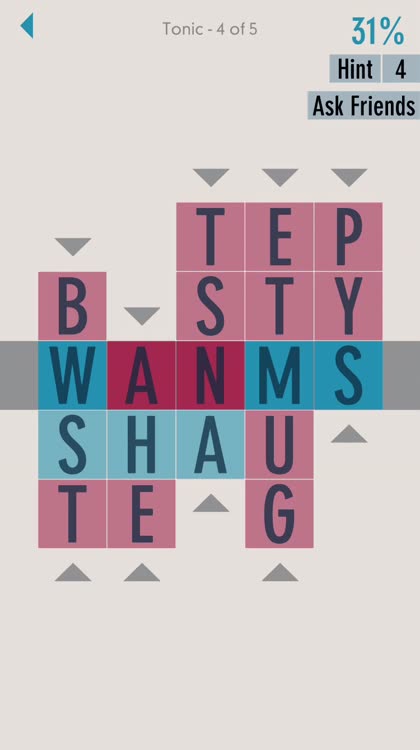 Get themes. Any in-app purchase you make in TypeShift will unlock colorful new themes, as well as get rid of ads and unlock stats. There are plenty of packs to choose from, so enjoy!
Expand your vocabulary. TypeShift features plenty of obscure words that you may not have heard of. This is a great game to help expand your vocabulary and also stimulate your brain!
What is it about?
From the creator of SpellTower, comes a new and completely original word game!
Typeshift is FREE but there are more add-ons
$1.99

Pistachio Clue Puzzle Pack

$1.99

Starter Bundle

$0.99

Chocolate Puzzle Pack

$1.99

Pecan Clue Puzzle Pack

$1.99

Parmesan Clue Puzzle Pack

$1.99

Walnut Clue Puzzle Pack

$0.99

Peppermint Puzzle Pack

$1.99

Umami Clue Puzzle Pack

$1.99

Sophomore Bundle

$0.99

Tangerine Puzzle Pack
App Store Description
From the creator of SpellTower, comes a new and completely original word game!
Anagrams meets Word Search, with a sprinkle of Crosswords.

Typeshift is the modern anagram puzzle; re-imagined from the ground up, combining wordplay, modern game design, and a mobile-first approach.

In most anagram games, you search for new combinations within a single word, but in Typeshift, you search within three to five words stacked & scrambled up together.

Shift columns of letters up and down as you try to spell words in the center row. Play continues until you have used all letters in a puzzle at least once.

Special Clue Puzzles combine Crosswords with Anagrams as you match clever clues provided by Typeshift's various puzzle authors.

- Daily Word Game Play with Global Leaderboards -

Typeshift features a free daily challenge with global leaderboards. The easiest challenge for the week appears on Monday, and progressively more challenging puzzles build throughout the week.

Compare your fastest Typeshift daily solving times with players around the globe!

------WHAT CRITICS ARE SAYING

"Addictive and edifying, like popping a special kind of bubble wrap that expands your vocabulary."
- The Verge

"Typeshift is a unmissable entry to the [word] genre." Gold Award.
- Pocket Gamer

"Typeshift is f*cking awesome"
- Giant Bombcast

"The Word Puzzle Game You've Been Waiting For"
- Waypoint

"Well worth your time"
- Sixcolors

------WHATS IN THE "BOX"?

Typeshift comes with over a hundred free puzzles, with more coming soon, plus new free daily puzzles every day.
Additional puzzle packs may be purchased in-app.
Purchasing any puzzle pack removes ads, and unlocks themes & detailed statistics.

------A WORD FROM THE DEVELOPER

Typeshift continues my quest to re-imagine classic newspaper games in the digital era.
Where SpellTower tackled word search and Really Bad Chess handled chess puzzles, Typeshift re-examines Anagrams and Crosswords.

Typeshift has been a joy to develop, and I hope you have as much fun playing it as I had making it.
As always, thanks so much for your support!

-zach