Urbanspoon (by Zomato) for iPhone is the #1 FREE app dedicated to helping you find the best food and dining experiences at over a million restaurants
Urbanspoon - Restaurant & Food Reviews
by Zomato Media Pvt. Ltd.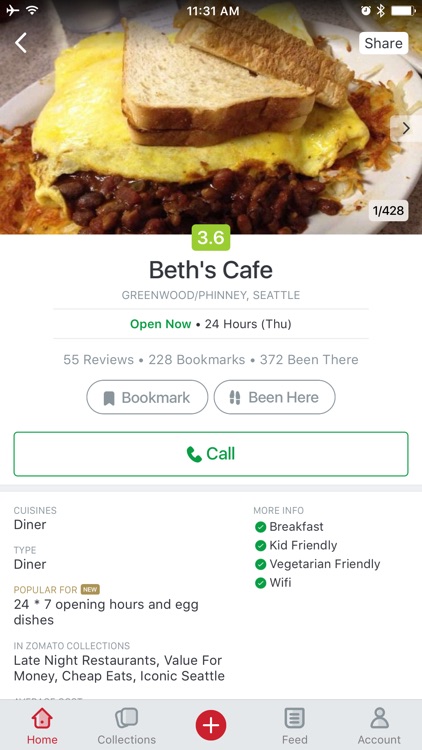 FREE

in the App Store
UrbanSpoon is another popular restaurant finding app. You can spin the slot machine to randomly find a place. If you are looking for a nearby place, a certain price or cuisine then you can lock different spinners. There are some reviews, but not a ton. There is an iPad version of the app available too. UrbanSpoon makes picking a restaurant fun and easy.
What is it about?
Urbanspoon (by Zomato) for iPhone is the #1 FREE app dedicated to helping you find the best food and dining experiences at over a million restaurants.
App Store Description
Urbanspoon (by Zomato) for iPhone is the #1 FREE app dedicated to helping you find the best food and dining experiences at over a million restaurants.

Featured in the New York Times, PC Magazine, Mashable, and the Sydney Morning Herald.

Urbanspoon is used by millions of App Store users every week to find nearby restaurants with honest restaurant ratings and reviews by consumers and food critics. Whether you're craving the top-rated cheap eats in your neighborhood or you're trying to discover a great meal while you travel, Urbanspoon is the best app to help "eat like a local" and find food fast!

• Top rated app with over 20 million total mobile installs

• Discover Restaurants - compare food choices by rating, distance, and cuisine

• Sort and map by popularity or distance within our restaurant directory

• Quickly find restaurant info such as phone numbers, addresses and driving directions, hours of operation, or find and book a table

• Browse menus and photos of menu items and restaurant locations

• Make reservations at any OpenTable (US & Canada), or Dimmi (Australia), or Bookatable (UK) restaurant

• Browse Online Restaurant Guides by critics, foodies, and people like you

• Easily change your location to research where to eat while you travel

Available in the US, Canada, and most major cities in Britain and Ireland, Australia, and New Zealand.

If you have any questions, please check out our FAQ at https://www.urbanspoon.com/faq
Learn more about Zomato at https://www.zomato.com