Block online content
Weblock: adblock & proxy
by FutureMind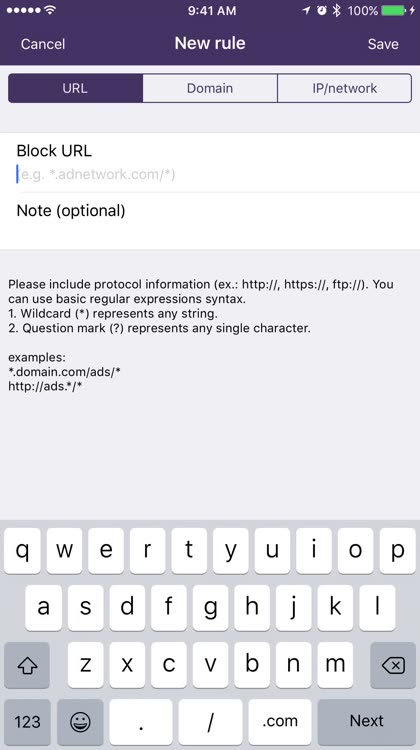 $1.99

in the App Store
Block ads and other annoying content in your apps and on the web with this utility app.
Blacklist. Perhaps you want to block a specific site for its political views or NSFW content. Simply drop into the Blacklist (opposite of a Whitelist which lets sites through your proxy) and add the site's URL to your Weblock system. Type or paste in the URL of the offending site, then decide whether to use all sub-URLs or not, then save it all. You'll no longer be able to access that site on your iOS device - a great way to keep kids and others out of places you don't want them.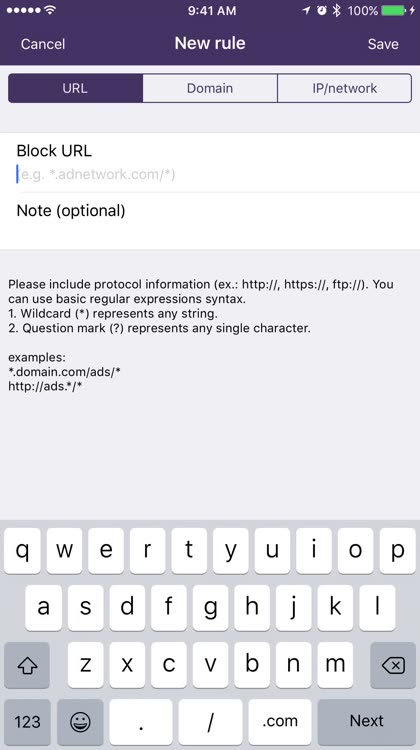 Tutorial. To make Weblock work, you'll need to set up an auto proxy in your Settings app. It's pretty simple - just copy the URL from the Weblock Tutorial, then paste into the Settings app in the Auto Proxy field. The Tutorial shows you exactly where to put this. Once done, turn your Wi-Fi off and then on again, and you're in business. Time to set up your rules, filters, Blacklists and Whitelists.
AdServers. Once you've got Weblock installed and running on your iPhone, you'll need to decide what AdServers and trackers you want to add. There are a ton of them already in place so you don't have to be an expert in mobile advertising. You can block them all, some of them, or none. It's up to you, and it's super easy to do: just click through and tap to add a checkmark.
What is it about?
Weblock allows you to block ads, banners and pop-ups to make your web surfing experience smoother and more enjoyable. What sets it apart from the rest, is the ability to block specific content, such as Facebook, Twitter, Google+ and other social widgets. Weblock has a constantly growing and updated list of predefined filters for you to choose from. It also enables you to create your own filters, allowing you to weed out content from just about any website.
Why we love it
With so many banner ads, pop-ups and social media apps getting in the way of our web surfing experience, Weblock's ability to banish them for good makes it well worth the low price tag.
App Details
Last updated
February 1, 2018
Release date
November 12, 2012
App Store Description
• #1 ad blocking solution for iOS
• Over 750 000 app downloads worldwide
• No in-app purchases, no subscription. Simple one-time payment
• Top Utility ranked in all App Stores around the world
• Over 1000+ carefully crafted filters
• Easy setup in under 1 minute with detailed tutorial
• Now with built-in Safari Content Blocker for better web ad protection

Weblock allows you to control how your device fetches online content. Easily manage PAC (Proxy Auto-Config) script and route different connections through different proxy servers. Weblock can make your device download ads (banners and popups), stats and user tracking, scripts or images through a proxy server you pick. It also allows you to use a different proxy for specific websites, like Facebook, Twitter, Google+, social widgets from websites. You can even define your own content filters. With Weblock you can control proxy for basically any network resource! This way you can choose not to reveal your real IP to different services, limit advanced ad targeting and protect your privacy.

IMPORTANT NOTICE: You're responsible for selecting a proxy server that allows you to download content you wish to download. We DO NOT provide a proxy service. Using a bad proxy server (like 127.0.0.1:8021) might result in some resources being blocked. You can control your proxy settings selectively with Weblock. Contact our support if you need help choosing right proxy server or setting up Weblock on your device.

Here are some situations in which Weblock might come in handy:
• Fetch ads through a proxy server you choose. Protect your privacy and prevent ad servers from knowing your real IP address and tracking you.
• Disable majority of ads on websites you visit on your iOS device! Weblock supports all major web browsers: Safari, Chrome, Mercury and others (browsers redirecting web traffic through third-party servers like Puffin Browser or Opera Mini are not be supported).
• Easily remove all native Facebook widgets and plugins (Like buttons, comments, etc.) on sites you visit - simply disable Facebook plugins in Weblock! Do the same for Twitter, Google+ and other social media.
• Stop annoying Tapatalk popups, nagging you to download forum browsing app on every visit.
• Take control of someone else's device - you can preconfigure any iOS device to control it with your Weblock app. Block or redirect any content, anytime, directly from your own device.
• Your predefined filters and custom rules can be synced between all your iOS devices using iCloud.
• If you wish to block something else, you can create your own rules and filters. You can block any URL (with regular expressions), domain or IP address. Don't know how? Let us know - we're here for you.
• You can also use Weblock's redirect feature to emulate '/etc/hosts' entries for HTTP and HTTPS traffic. This might be useful for web and app developers to pin domains to different IP addresses.

••• IMPORTANT! •••
Need help setting up Weblock? Contact our support at [email protected]