See what's up.
Week Calendar Widget Pro
by Crater Tech LLC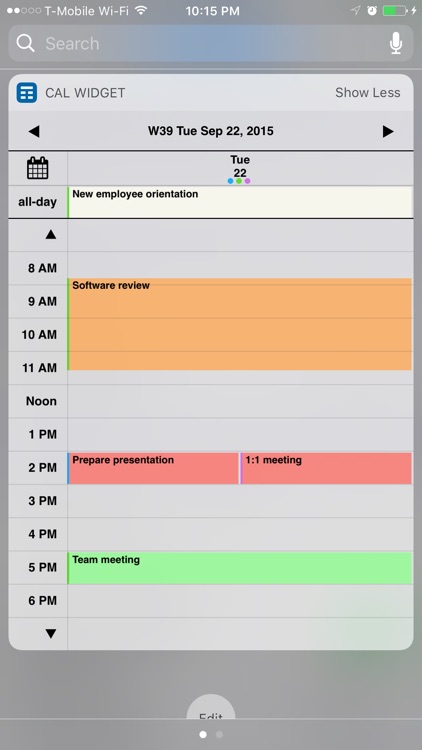 Check easily your iCal Widget.
What is it about?
NO need to unlock your device to see your calendar events!!!
For those who...
It's for those who are always looking for new ways to save some time.
Not for those who...
If you're not at least running iOS 8, this app won't work.
Why we love it
If you're always in a hurry, iCal Widget is the calendar app for you. It easily handles complicated events that overlap, and assigns colors to allow for quick discovery.
App Store Description
NO need to unlock your device to see your calendar events!!!
Displays your existing calendar events from multiple calendar sources into one widget configurable view. Displays up to 7 days, tap on any day's header to go to day view mode. Navigate your schedule for past and future events from the widget. Technically, there is no need to unlock you device and see your event details such as: location, attendees, notes ..etc.
Suitable for people with busy schedule such as work and school.


The widget includes:

․ Full Calendar event details (title, date, time, attendees, notes , location)
․ Day timeline
․ Week View timeline
․ Scroll through 24 hours
․ navigate through past or future days and weeks
․ Tap on event to open event or iPhone calendar
․ Handles complicated event overlapping
․ Assigns colors to events
․ Choose to show/hide any day of the week
․ Choose first day of week
․ Choose number of days to show in the widget
․ Control the height of the widget from setting

The app remembers the last screen the user was viewing or it can be configured to jump to today or current week.

Please try our "Reminders widget" app that provides a nice widget for the built-in iOS reminders app.

More features will be added soon!
Please send us what you want! We will add it!