FREE 30-DAY TRIAL
WineRatings+ by Wine Spectator
by M. Shanken Communications, Inc.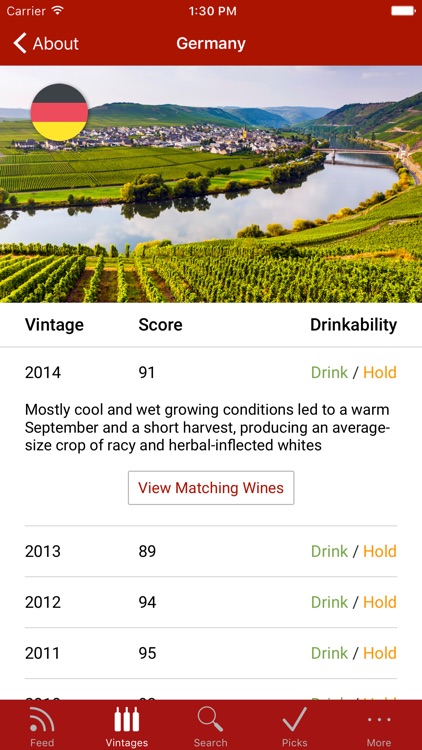 What is it about?
Wine Spectator WineRatings+ provides a host of features for wine connoisseurs. You can check out the Wine Spectator feed, review vintage charts, and learn more with the how-to articles and videos. The app also offers expert picks to help you choose the best wine and reviews for over 1,000 wines each month.
Why we love it
Wine Spectator WineRatings+ offers expert reviews for over 315,000 wines, making it a go-to source for wine aficionados.
WineRatings+ by Wine Spectator is FREE but there are more add-ons
App Store Description
FREE 30-DAY TRIAL!

Try WineRatings+ today and receive a FREE 30-day subscription to Wine Spectator's expert reviews for more than 315,000 wines. WineRatings+ is a free download that includes a mix of free and paid content. The free content includes comprehensive vintage charts, daily news, educational articles and videos. An in-app subscription gives access to all of Wine Spectator's wine ratings, with more than 1,000 new reviews added each month.

If you have any questions about the app, please visit app-help.winespectator.com.
—

FREE CONTENT IN WINERATINGS+
WineRatings+ includes a wide range of free content to teach you more about wine:

• Wine Spectator Feed: Gives you a timely view into current wine culture, with an up-to-the-minute feed of news, Q&A tips, wine-pairing recipes, interviews with winemakers and sommeliers, wine in pop culture and more from WineSpectator.com.

• Vintage Charts: Covers 55 of the world's principal wine regions and grape varieties to help you assess the overall quality and character of each region's wines and when they will be at their most enjoyable.

• Learn More: Helps you explore the fundamentals of wine with helpful how-to articles and educational videos.

PREMIUM CONTENT FOR WINERATINGS+ SUBSCRIBERS
Wine Spectator's ratings app gives you access to expert, reliable reviews for more than 315,000 wines—with definitive ratings, detailed tasting notes, release prices, current auction prices and recommended drinking windows.

TRUSTED AND TIMELY RATINGS
WineRatings+ is automatically updated (no download required) with the latest Wine Spectator reviews. At least 1,000 wine reviews are added each month. Each review is written by an experienced Wine Spectator editor according to strict blind-tasting methodology to ensure fair and reliable results.

RAPID, EASY-TO-USE WINE RATINGS SEARCH
WineRatings+ helps you look up Wine Spectator ratings for even the most difficult-to-spell wines and wineries. The app instantly provides suggested matches as you type, while the powerful filtering options help you find wines by name, winery, price, score, grape, region or vintage with precision.

EXPERT PICKS
Looking for expert advice on which wines to purchase? The Picks section in WineRatings+ delivers wines recommended by our editors. For great buys among the most recent reviews, turn to "Classic Wines (95-100 Points)", "Newest Reds and Whites $20 or Less (90+ Points)" and "Extreme Values $12 or Less." Or explore "Value Sparklers for Special Occasions," "Blue-Chip Collectibles" and our "Top 100"—the most exciting wines of the past year.

EASY SAVING
To help you remember the wines you enjoy, you can "favorite" wines for the long-term. We also automatically save your recently viewed wines to a list in the Picks section.

EASY SHARING
Share your favorite wines and articles. Subscribers can post Wine Spectator wine reviews, as well as links to news and feature stories, to their Facebook and Twitter accounts, or send them via email.

DOWNLOAD TODAY
Wherever you are and whatever your expertise, Wine Spectator WineRatings+ will help you find your perfect wine at the perfect price. Download the world's premier wine app today!

The premium version of WineRatings+, provided by Wine Spectator, requires a monthly subscription of $2.99, which is auto-renewed. Payment will be charged to your iTunes/App Store account at confirmation of purchase. You can turn off auto-renew at any time from your iTunes/App Store account settings; you must do so at least 24 hours before the end of the current subscription period to avoid being billed for the next cycle. No cancellation of the current subscription is allowed during the active period.

WineRatings+ from Wine Spectator is sold separately from our magazine and website subscriptions.

Privacy Policy
http://www.winespectator.com/display/show/id/privacy-policy

Terms of Use
http://www.winespectator.com/display/show/id/terms-of-service

Emoji provided free by http://emojione.com