Angry
Birds
Crosses
The
10
Million
Downloads
Mark
-
Time
To
Celebrate
October 30, 2010
There's no argument now -- was there before? -- that
Angry Birds
has become a pop-culture sensation. Today, Rovio Mobile announced that their acclaimed physics puzzler has officially been purchased more than 10 million times from the App Store.
"It feels fantastic to have such a phenomenal number of customers and fans," said Mikael Hed, CEO of Rovio. "Angry Birds is truly taking mobile gaming to the mainstream. It is a privilege to develop games and provide entertainment for so many people worldwide."
Angry Birds
debuted in the App Store back in December 2009. With its quick and continued success came the release of
Angry Birds Lite
in February 2010, and
Angry Birds HD
becoming available at the same time Apple launched its iOS-based tablet in April.
Angry Birds
has sat at the tippy-top of the App Store featured lists nearly its entire existence. Even as I write this post, the game has a five-star rating with over 300,000 rating submissions to the App Store. That said, it's no wonder Rovio released the holiday-themed
Angry Birds Halloween
and
Angry Birds Halloween HD
. Not amazed enough yet?
Angry Birds Halloween sells one million copies in xix days
. If you happen to be unaware of this particular addictive game series, check out our reviews of
Angry Birds
and
Angry Birds Halloween
. All of this excitement can be tough to contain. If you're an
Angry Birds
supporter, why not show it? There are a few ways you can accessorize your life,
Angry Birds
-style.
We previously informed you
of the opportunity to have your own real-life version of these vengeful creatures. Here's your chance to finally
pre-order your own official Angry Birds plush toy
. Rovio is also planning to offer a very limited quantity to select United States retailers as well.
All five different
Angry Birds
are available, from the iconic red bird to the exploding black bird. Each 8" tall plush toy will require you pony up $14.99 plus any shipping and handling charges. Orders are planned to begin shipping in December. To those keen enough to have noticed the smaller and varied versions of the plush toys from the earlier post, but don't see them available for pre-order; it would seem that Rovio and Commonwealth Toy and Novelty are looking to release the cuddly and destructive goodness in spurts:
More products will be added after the holiday season, with different size options for each bird, and an assortment of green pigs to follow.
Another requested item that Rovio divulged recently is the availability of an official
Angry Birds Halloween ringtone
. The ringtone is available in iPhone, Android, and other cellular phone native versions. Let me run you through the basics: download, install, sync, and set. If you're using
Safari
on Mac OS X, you may need to right-click the link and choose "Download Linked File". Once you've got it downloaded and unzipped, if you chose to grab the combined compressed package, double-click on the
abhringtone.m4r
file to add it to your iTunes Ringtones library. The default name is "abhalloweenringtone" but you can change it by right-clicking on the ringtone and choosing Get Info. If you've never added a custom ringtone to your iPhone before, you may need to enable the ringtone synchronization. Connect your iPhone to your computer, select it as the source, and go to the Ringtones tab at the top.
After you've successfully gotten the ringtone on your iPhone, you'll need to set it as the default. Go the Settings app, then Sounds, then tap on the currently set ringtone, and finally choose your new
Angry Birds Halloween
tune. Voila! Now others can see and hear your
Angry Birds
, but that's just not enough for you. As a die-hard fan, you need something to blatantly display that you're taken the initiative to fight back against the evil green pigs. If you haven't guessed it yet, it's probably time to start sporting an
Angry Birds t-shirt
. You should now be properly equipped to proudly celebrate this triumphant occasion. Take this time to make your
Angry Birds
obsessions, favorite videos, costumes, or whatever else known to the rest of the community by making a comment.
Mentioned apps
$0.99
Angry Birds
Clickgamer.com
Free
Angry Birds Lite
Clickgamer.com
$2.99
Angry Birds HD
Chillingo Ltd
Free
Angry Birds Seasons
Rovio Entertainment Ltd
Free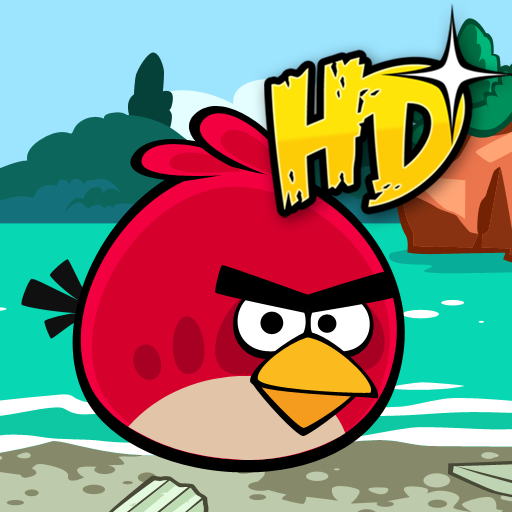 Angry Birds Seasons HD
Rovio Entertainment Ltd
Related articles