Find
Out
How
To
Introduce
Keynote,
Numbers,
And
Pages
To
The
World
of
Dropbox
February 9, 2011
Many users have found 'cloud' storage solutions to be nearly indispensable, allowing a person to easily access their files from almost any platform or location. One of the most common choices is the free
Dropbox
service. Many third party document creation and editing iOS apps have seamless
Dropbox
support, but yet, not Apple's iPad-exclusive productivity suite,
iWork
. Thanks to
Techinch
, we now know there is a solution to this very problem. Apple's
Keynote
,
Numbers
, and
Pages
iPad apps are a key tool for many home and small business users. All three support transferring documents via email,
iWork.com
, and WebDAV solutions like Apple's
MobileMe iDisk
. However, alternative services like
Dropbox
don't support WebDAV access. So, what's a person to do? To fill the need of bridging the gap between
Dropbox
and WebDAV only clients and services comes
DropDAV
.
DropDAV
works by offering an encrypted service where files are uploaded to and very briefly stored on their WebDAV accessible servers just long enough to be automatically transferred to your
Dropbox
account using the
Dropbox
API.
DropDAV
is free when using the no cost 2GB
Dropbox
option, but will cost up to $6 per month when paired with one of the premium
Dropbox
accounts.
Techinch
has posted a detailed walkthrough, including screenshots, of getting this service setup for use with
iWork
for iPad apps. I'll highlight the basic steps for those tech-savvy iPad owners, but those who need step-by-step are encouraged to check out Techinch's article. 1) Sign-up for a
DropDAV
account, which simply uses your
Dropbox
information. - You can leave things as-is or make your
DropDAV
login information unique later on. 2) Launch
Keynote
,
Numbers
, or
Pages
on your iPad. - Either create a new document to use temporarily or open one you have saved on your iDevice. 3) Tap on the action button at the bottom and select "Copy to WebDAV" 4) Enter the server address, default is https://dav.dropdav.com, and then your
DropDAV
login credentials. - Your
DropDAV
login credentials will be the same as your
Dropbox
if you didn't change them following the setup. 5) Choose the export format and desired destination, and finish by tapping Copy. Now that the app is authorized to access your
DropDAV
account, future imports and exports will be just as painless as transferring to an iDisk. It is necessary to perform steps 2 through 5 for each
iWork
app the first time you want to access your
Dropbox
storage. So, there it is, and we're happy to share it with you.
Mentioned apps
$9.99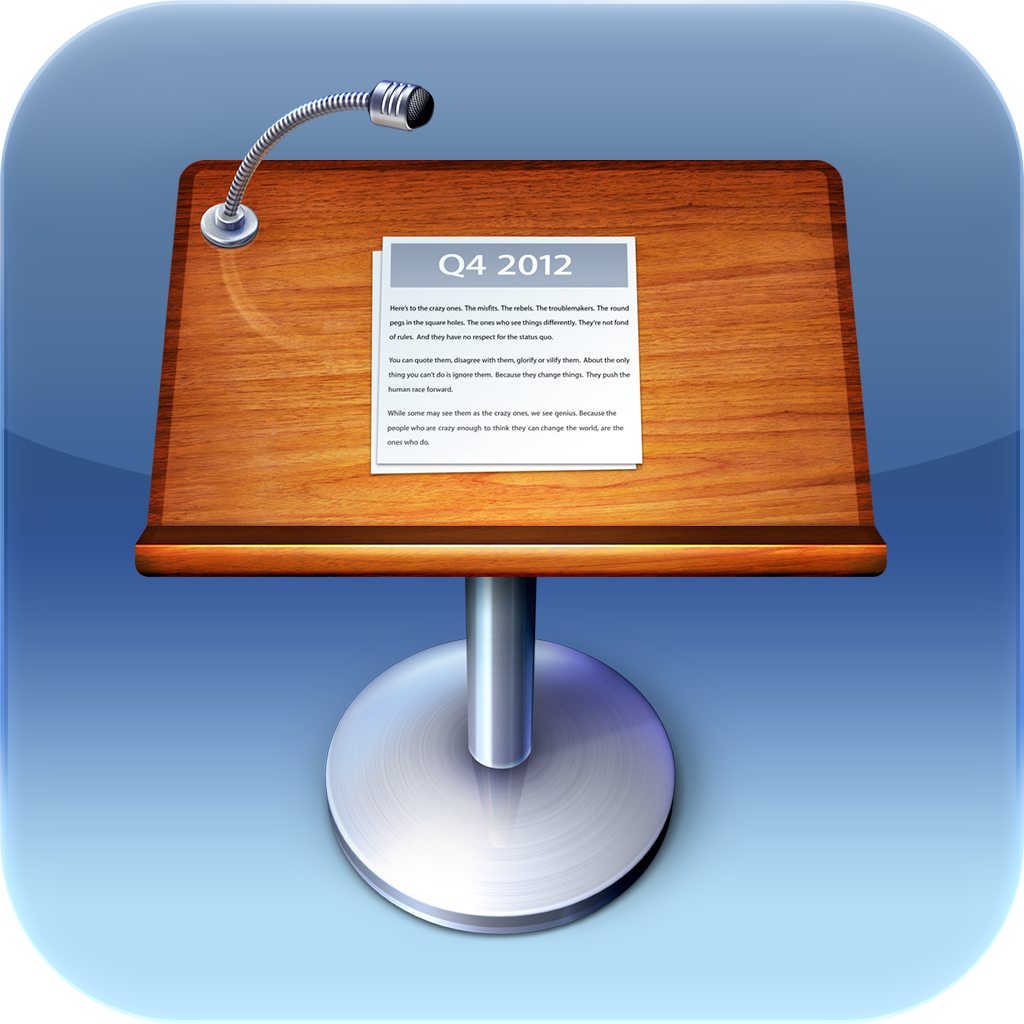 Keynote
Apple
$9.99
Numbers
Apple
$9.99
Pages
Apple
Free
Dropbox
Dropbox
Free
MobileMe iDisk
Apple®
Related articles