Review:
Bop
It!
-
Can
You
Keep
Up?
February 4, 2011
Overview
Since its original production in 1996, Hasbro Bop It! handheld toys have been very popular in many countries. Fifteen years later, Electronic Arts has brought the audio reaction game to the iPhone, fully loaded with some new features that take the hectic experience to a new level.
Features
Bop It! has 4 solo modes and 4 multiplayer modes for up to 10 people. The game is set up so that a voice commands you to do a certain action using the opject that's on screen. As you perform successful moves, the tempo dramatically increases until you lose. The original bop it, twist it, and spin it actions are included, along with 9 other Bopjects. The game has 40 trophies to unlock, as well as local and global leaderboards.
The Good
The game has some great single player modes to keep you busy whenever you have a spare minute or two. Classic mode takes you back to the original Bop It! toy with 3 moves, while basic mode uses all 12 Bopjects, including squeeze, shout, crank, spin, and more. Extreme mode takes the difficulty level up a few notches and places as many as 6 Bopjects on the screen. A new blitz mode requires you to complete 20 random moves as quickly as possible. You can set what game mode you want to launch when the quick play button on the main menu is pressed.
If you're with a group of friends or with family, the multiplayer part of Bop It! is amazing. In pass it basic, you and several other people each do 4 or 5 moves before passing it to the next player. Pass it extreme works the same way except with 6 Bopjects on the screen at the same time. The cool thing about having pass and play is that you can choose whether you want to play cooperatively or against each other with elimination. In head to head mode, the playing area is divided into 2 sides with a Bop It button in the middle and several Bopjects on both sides. You earn points if whoever you're playing against misses a move that's on their side or if you tap the Bop It button first when you're supposed to. Blitz mode lets you and up to 9 other friends compete to try and finish 20 moves as quickly as possible. EA has done an overall great job in porting a handheld classic to the iPhone. By default, the original Bop It! voice says the commands and provides some funny and usually discouraging statements. You have the option of choosing to listen to the Bopject sounds instead and to turn off the comments. One downer about the Bop It! toy is that it requires sound to function properly. With the iOS version, you can play silently by activating text commands that appear on the screen. There are iPhone-specific X-Moves that award bonus points for flicking your device, shouting into the microphone, or doing other extra tasks. An interactive tutorial lets you learn and practice your moves as many times as you want. The entire game is built with smooth and polished graphics that make it all the more fun.
The Bad
There is no real way of recreating the handheld experience 100%, and some things just feel awkward on an iPhone. Some moves are weird and more difficult than they should be. Twist it requires you to touch the yellow object with 2 fingers and twist, squeeze it makes you to use 2 fingers and pinch, and crank it has you touch a green handle and draw a circle on the screen. The X-Moves make the game so much easier and offer a huge advantage for some moves. The only form of social integration included in Bop It! is Facebook, which most people probably won't use anyway. The head to head mode literally screams online multiplayer, and it would be great if that were added in an update.
The Verdict
EA is responsible for porting many classic games to the iOS, and Bop It! stands out as one of the most feature-rich, user-friendly titles. Once you get used to the controls, you'll be hooked on trying to beat that last score in extreme mode. For $2.99, Bop It! is a must buy that offers a great experience that costs less than the toy itself.
Mentioned apps
$0.99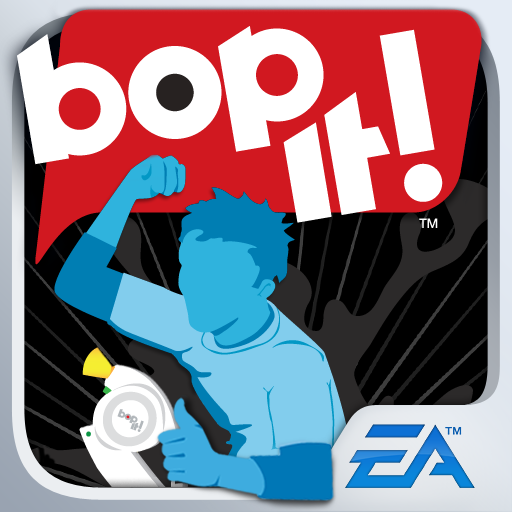 Bop It!™
Electronic Arts
$0.99
Flip It! Gyro Game
Jeybee
Related articles