Don't
Let
Professor
Pym
Go
Down
When
You
Have
The
Secret
Of
Steam
July 12, 2012
Professor Pym and the Secret of Steam (Free) by Naoplay is just like Astronut, but more challenging.
If you haven't checked out Astronut, the basic premise was this: you jump vertically from planet to planet, collecting crystals and hearts along your way to the end of the level. To make things difficult, you'd have special or dangerous planets, and monsters that would harm you. Of course, jumping from planet to planet was easy, since the gravitational pull would help you land on target. Secret of Steam is just like Astronut, except it utilizes gravity in a different way: down.
You are Professor Pym, and you'll be hopping along spinning cogwheels. The game features simple one-touch controls, so you can play this with just one hand. A simple tap on the screen will make Pym jump — no other controls are needed. Pretty easy, right?
Unfortunately, that's going to be the easiest thing about the game. In each level, Pym will start at the bottom of a chamber that is continuously filling up with what appears to be acid. Steam is rising from the deadly liquid, and you'll be using that to propel Pym to safety at the finish line. As you hop from wheel to wheel, make sure to collect as many "bolts" as you can. These will earn more points towards your final score.
So what makes the game more difficult than Astronut? For one, cogwheels don't have their own gravitational pull, so you can't depend on being pulled in to the next wheel if you fall a bit short. And since gravity, by nature, pulls things down, if you don't quite make the jump, you'll find yourself falling back down — hopefully you'll land on another safe cog, and not the liquid of death.
If you're ever curious about how far you can fall and still be safe, there is a meter on the left side of the screen that will show how much space is left between Pym and the acid. If you do fall in, though, it may not be the end! You are given three seconds to get out of it — if not, then it's game over.
Another challenge that the game has is wheels that require precise timing to land on, such as bouncing wheels and spike-covered wheels. There are other obstacles to discover, of course, such as sticky pads, path-blocking bars, portals, steam throwers, and more. I found the game to be a pretty nice challenge right from the get-go, which is not a bad thing at all — no one likes games that are too easy, right?
Your final score on a level will depend on completing the level (earning a star), meeting the time goal, and how many bolts you collect, so a level can earn a maximum of three stars. I wish that the game would tell you what the time goal was while playing, because currently it seems that you will only learn of what the goal was after a level is complete. This can be a bit frustrating, as perfectionists will have to keep memorizing what the time goal is.
The bolts that you collect along the way have more purpose than just adding to your score: the bolts are the game's currency. The bolts that you collect will be able to be spent in the shop for unlocking power-ups: Super Jump, Shield, Time, and Gas Mask. While the first two are pretty self-explanatory, the Time power-up will slow down the rise of the water, while the Gas Mask allows you to last longer if submerged.
I was a bit confused on how to actually use the power-ups I bought, though. I tapped on the icons at the top, and those only gave me the menu to buy power-ups. I tried tapping on the icons for the power-ups in this menu, but to no avail. I haven't seen them as obtainable items during levels, so I currently have a pile of power-ups just sitting in the game, with no access to them that I'm aware of. Perhaps I'm not doing something right, but if that's the case, the game made it a bit unintuitive, didn't they? If anyone figures it out, feel free to let me know.
Additionally, if you want more bolts, you can do in-app purchases to obtain them. The game itself comes with the first 10 levels for free, but there are two additional IAPs to obtain the other levels. You can get levels 11–30 for $0.99, and levels 31–40 for another $0.99.
I thought that this was kind of lame and that the developers should have included the rest of the levels for one price. To me, it doesn't make sense that you get 20 levels for a dollar, and then 10 more for the same price.
The graphics for the game are decent, though I don't think they are as eye-catching as Astronut. However, if you're a fan of the steampunk trend, then you should find the visuals appealing. The music and sound effects are pretty quirky, and add to the overall package.
There is Game Center integration for leaderboards and achievements. A competitive edge of the game is the fact that you will see which player has the best score for a level. It's nice to see, and will probably motivate more people to try even harder to get a top score.
I found the game to be pretty fun and challenging, despite the flaws. If you try the game and like the levels, then the additional levels may be worth it — I wish that they did have a different pricing structure for them.
Fans of the vertical jumping games or steampunk will definitely want to Professor Pym and the Secret of Steam a try.
Mentioned apps
Free
Professor Pym and the Secret of Steam
Naoplay
Free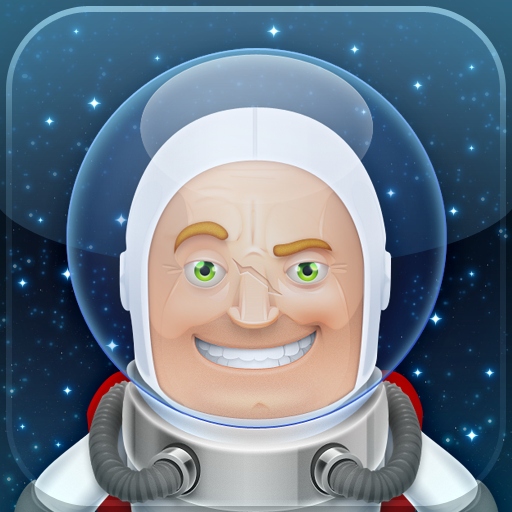 Astronut
The Iconfactory
Related articles